Welcome Dr. Robert Forbes, OD
A native of the Northwest, Dr. Forbes is happy to continue to call this part of the country home. He was born in Springfield, Oregon and lived in Vernonia until he was 12 years old. His family moved to Jefferson when his father accepted a position there as principal of the local elementary school. His mother was an elementary teacher who taught in a neighboring town. "Jefferson was affectionately known as the 'Peppermint Capital of the World,'" he said. "When I was in high school, I worked in the mint fields moving irrigation lines, so I smelled like peppermint all summer!"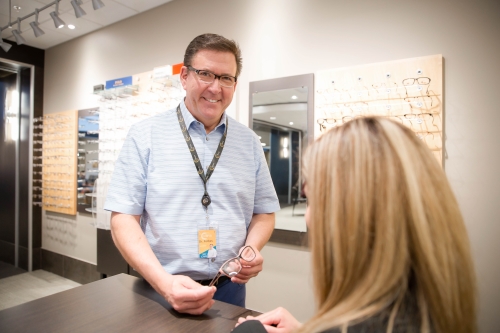 Dr. Forbes went to Oregon State University for most of his undergraduate studies. He obtained a Bachelor of Science degree with major in physics from Pacific University Forest Grove, Oregon. He received his Doctor of Optometry degree from Pacific University College of Optometry in Forest Grove.
Dr. Forbes began his military career as a life/survival specialist. He prepared survival gear for pilots and then led courses on how to utilize the provided survival gear should an air crew ever find themselves having to exit out of a disabled fighter jet. He was a bit conflicted at the beginning of his career when he was informed that he had been accepted both as a weapons officer in an F-14 fighter jet as well as into optometry school. On the recommendation of his commanding officer, he gave up his dream to be an aviator and became an optometrist instead. "I have never regretted it. I love taking care of my patients; my time in the Air National Guard has also been very rewarding, although I still get the bug to fly whenever I see fighter jets aloft."
Lieutenant Col. Forbes continues to serve in the Washington Air National Guard as Chief of Optometric Services. "The most fulfilling aspect of my military career has been my involvement in medical humanitarian mission work. You always hear about people going on missions to do good for others. In my experiences, it's been the other way around. I have gained so much more from helping others than I have given. I went on the first humanitarian mission in 1992 to an underserved area in the Yucatan peninsula of southern Mexico," he said. "And I've been hooked on it ever since. It was eye-opening for me. I hadn't been immersed in another culture before. The people who came to our mobile clinics dressed in their best clothes – hand embroidered white dresses and white shirts, which were spotlessly clean. To them it was an honor to come and receive care. Happy people, smiling people – who were an absolute pleasure to serve." Dr. Forbes has since been on many medical missions throughout South and Central America, Asia, North and West Africa, and Eastern Europe.
Heading up the optometric portion of another military humanitarian mission in the South Pacific, Lieutenant Colonel Forbes and his team are expected to serve about 3500-4000 patients for eye examinations and glasses. The entire mission team will include medical doctors, dentists, mental health professionals, veterinary services, and full optical services." He said these units are similar to M.A.S.H. units, but do not provide surgical services. Many of the missions Dr. Forbes has been involved with were in conjunction with the Lions Club, who supply the eyeglasses. "These medical missions are set up in various countries by the Lion's Club, and we put together the teams to get the job done."
As an experienced optometric practitioner, Dr. Forbes has honed a wide range of expertise in his 25 years of practicing clinical optometry. "I have performed the full scope of eye care, from commercial practice at Lens Crafters to personal practice and group practice. I've also owned a wholesale optical lab. My career has been very rewarding. However, there was one thing that always seemed to be missing. When I would refer a patient out for specialized care, I often did not know whether they had actually received that care. One of the things that attracted me to CBHA is that here I will have the ability to follow up on patients and know that they were taken care of – that their medical needs had been addressed."
Dr. Forbes first interviewed at CBHA six years ago. "I was very interested in moving here at that time," he said. "However, my teenage sons convinced me to allow them to finish high school where they were, so we remained in Oregon." He was pleased to see the opportunity open up again. "The boys have graduated since then – so here I am!"
Dr. Forbes calls himself "an outdoor guy." He grew up hunting, fishing, camping, and anything else that happens outdoors. He likes to spend time with his sons at the family cabin his father built in the high desert in LaPine, Oregon.