Eye Doctors in the Columbia Basin
Eye Health Matters at Every Age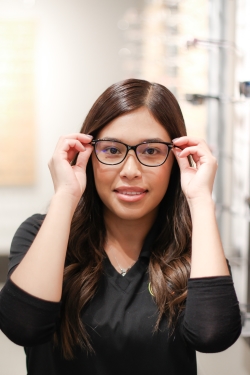 The condition of our eyes changes year after year, which is why it is important to have regular eye exams even if you have never had an issue with your eyes. A visit to an eye doctor is important for your eye health and your overall well-being. The condition of your eyes can help detect early signs of diabetes, high blood pressure, and heart disease.
Columbia Basin Health Association's eye care clinics are staffed with trusted opticians experienced in treating patients of all ages. Whether you need a routine check-up, are looking for a new eye doctor for your child, or believe you have a vision disorder, our team is ready to help.
Our eye care services include:
Comprehensive eye exams
Prescription lenses and contacts
Prescription sunglasses
Foreign object removal
Treatment of eye injuries, eye infections, allergies, and irritations
Eye disease management
Pre- and post-surgical eye care
Retinal photography and special retina testing
Corneal topography
Meet Our Optometrists
Click on their pictures to read their profiles.
Locations
We offer Eye Care at all three of our locations! CBHA has established three extensively-outfitted and meticulously staffed clinics in our service areas. Our goal at every one of our locations is to fulfill a critical role in the lives our patients and provide high-quality outpatient care they can trust.
Our clinics include: Othello Clinic | Connell Clinic | Wahluke Clinic
WHEN TO START GETTING EYE EXAMS
The American Optometric Association (AOA) advises children have their first eye exam at 6 months old. If no issues are discovered, the next exam is recommended at age 3, and then another right before the start of school at age 5 or 6 years old. From then on, children should receive an eye exam every two years.
Over 80% of learning happens visually. It is not always easy to tell if your child has a vision disorder. Vision problems usually develop slowly. A child may not realize their vision has changed so it will be up to you to notice the signs of a vision problem and take the next steps. Some indicators your child may have vision problems include poor school performance, sitting too close to television or computer screens, frequent squinting, and difficulty reading.
NAME BRAND FRAMES
We offer a wide selection glasses frames from top 40 designer brands, such as Michael Kors, Nautica, Vera Bradley, Oakley, Ray-Ban, Polo Ralph Lauren, Calvin Klein, and more. Prescription sunglasses and contacts are also available.
INSURANCES
We accept Vision Service Plan Insurance (VSP), which can assist with the cost of the exam, new glasses, and contacts. All three of our vision clinics accept VSP. Speak to a member of our
patient services
team about coverage.
WARRANTY
We want you to love your glasses. So we made sure to get you the best frames and lens warranty!
WHEN TO VISIT AN OPTOMETRIST
Many people aren't sure when they should visit their primary care provider, eye doctor or go to the emergency room. The majority of the time, if your problem or pain is eye-related, then you should contact your eye doctor first. For any other problem, you should see your primary care provider.
Some of the problems our optometrist can help you with are red or sore eyes, eye allergies, an injury to your eye and seeing flashes or floaters and more.