Protect Your Eyes! Eclipse of the Sun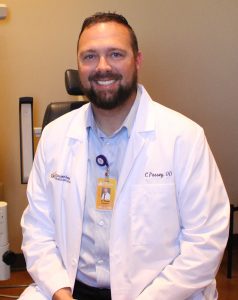 It's almost time! The long anticipated solar eclipse will cut a dramatic shadow across the United States on August 21st. You will need a special pair of ultra-dark solar sunglasses to view it. "Without solar glasses, the sun's rays could cause permanent damage to our eyes," Dr. Callin Passey, CBHA Optometrist, said.
According to information on the NASA website, the only safe way to look directly at the uneclipsed or partially eclipsed sun is through special-purpose solar filters, such as eclipse glasses. Homemade filters or ordinary sunglasses, even very dark ones, are not safe for looking at the sun; they transmit thousands of times too much sunlight.
Dr. Passey expressed the importance of supervising your children during this process. "Make sure you watch them closely," he said. "Inspect your solar glasses before using. If they are scratched or damaged, discard them. Read the instructions on the label."
The NASA website recommends standing still and covering your eyes with your eclipse glasses or solar viewer before looking up at the bright sun. After looking at the sun, be sure to turn away before removing your glasses. Never look at the partially eclipsed sun or uneclipsed sun through any unfiltered camera, telescope, binoculars, or other optical device. If you normally wear eyeglasses, put your eclipse glasses on over them.
Dr. Passey said his family is excited about the eclipse. "We will be able to view some of it in our area. This striking phenomenon is something you don't want to miss. Just remember that it is of vital importance that you protect your eyes. If you have any questions please call 509-488-5256 and ask for either Dr. Bleazard, Dr. Hair or me. We'll be happy to answer any questions you might have."