Your Fully Integrated Healthcare Campus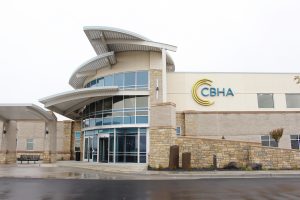 CBHA (Columbia Basin Health Association) opened for business at its new 78,000 sq. ft. facility in Othello, Washington, on October 23rd, consolidating a breadth of clinical services from across multiple locations to better serve area patients.
Located just north of Highway 26 at the corner of 14th Avenue and 1515 E. Columbia Street in Othello, this first phase of the CBHA health campus continues the organization's 45-plus year mission of integrated care services with medical, dental, behavioral health, family services, eye care, pharmacy, lab and imaging all under one roof.
"We always work to be leaders in our community and industry, and to change the perception of rural healthcare and of CBHA," says CEO Greg Brandenburg. "Living in a rural community shouldn't mean our patients receive anything less than modern, quality care. We see it as our duty to continue to raise the bar and fulfill our mission to provide equal access to quality health care to all persons regardless of age, sex, color, ethnicity, national origin or the ability to pay. We will continue to strive to be a model of excellence in patient satisfaction in community and agricultural-worker healthcare, and a community leader in initiating and developing collaborative relationships."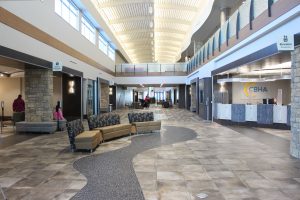 Since purchasing the 20-acre property over three years ago, CBHA leadership has been working to bring never-before-offered services to the new campus in the coming months, including nephrology, audiology, a walk-in clinic, and wound care. The decision to consolidate services to a single location maintains CBHA's long-standing commitment to provide the best care possible to the community, and is in line with CBHA's promise of "Keeping Healthy Those Who Feed the World."
"This campus will help us adhere to our value statement of providing clinical and service excellence, operational effectiveness, financial stability, and employee and provider engagement, innovation, and commitment to our organization and to our communities," says COO Dulcye Field.
CBHA operates multi-service facilities in Othello, Mattawa and Connell, and sees up to 35,000 patients a year across all locations and service offerings. Total patient volumes continue to grow, increasing toward 5-percent per year over the last several years. Until recently, services for Othello patients were spread across four different locations, making it more difficult for patients with mobility issues or transportation challenges, and those visiting with their small children to coordinate visits.
"We were bursting at the seams in buildings that had been retrofitted for healthcare use, asking patients to move between locations for care," shares CFO Kent Mosbrucker. "Improving the ease and efficiency for patients was central to moving forward with the medical campus, with conscious consideration for patient and provider flow alike."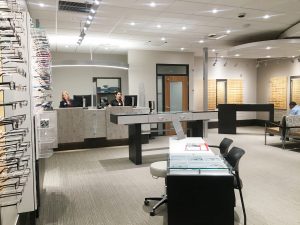 Partnering with architectural-design/build firm Neenan Archistruction, CBHA leadership planned the new facility around the patient-customer. The CBHA team invested well over 18 months in planning discussions, with site visits to other community facilities in several states. Thoughtful design analysis and other considerations were made to best optimize the Team Health concept and improve the visitor experience through efficient patient and staff flow, structural and technical evaluation for modern equipment installation, and capacity planning for future services that are otherwise inaccessible in the local area.
CBHA celebrates regional geographical details in its aesthetic design, with an open galleria-style structure that includes visual references to the local diverse agricultural landscape and Columbia River, as well as art work from regional artists. Leadership intentionally designed an inviting place for community members to obtain services and gather to discuss wellness topics, or simply to enjoy a book at the café.
Subsequent stages of the campus build out are already in the planning, development and implementation phases, including a large plaza for health fairs, outdoor walking trails and fitness stations, community-gathering areas, and extended stay housing for clinical residents, students and new CBHA providers. Future services under consideration on the campus include healthy-cooking and exercise classes; a farmer's market; and hosting of the American Cancer Society Relay for Life, dental same-day crowns, and visiting cardiology and orthopedic specialists.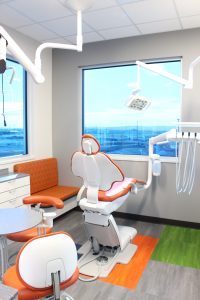 "The timing was right to make this investment on behalf of CBHA patients and area residents, and was made possible with favorable financing rates and utilization of New Market Tax Credit financing," says Mosbrucker.
This campus project was made possible through a combination of CBHA's conservative fiscal management and well-timed financing (in conjunction with a stipulated sum, or fixed-bid design/build contract), which were keys to managing project cost risks.
Agrees Brandenburg: "In the development of a new campus that is custom-built with modern clinical technology and space to expand services, we saw a unique opportunity to better deliver our commitment of integrated-care Team Health services. Our goal is to provide the best rural healthcare experience for our patients to receive care, our employees to work, and our providers to practice healthcare, helping our stakeholders reap the benefits of this campus for years to come."
For more information regarding CBHA or our new Healthcare Campus, please contact Blake Barthelmess, VP of Business Development at 509-488-5256.