5K Color Run CBHA Run For A Cause Kids with Special Needs
On Saturday, September 29th, at 9 a.m., CBHA will host its inaugural 5K Run for a Cause at the Othello Clinic. The CBHA 5K Color Run: Run for a Cause is less about making record time -- and more about having the time of your life. It's a family-friendly event where runners, walkers, and wagons are all welcome.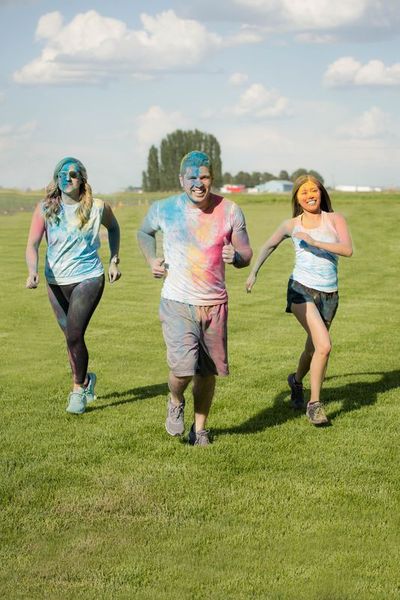 The first annual CBHA Color Run is designed to raise awareness of childhood conditions that affect families here in the Columbia Basin. While we may not be able to eliminate these childhood conditions, we can certainly increase awareness, improve education, and support the families who deal with them every day.
Run for a Cause is also an educational celebration of health and movement, and our ability to enjoy community together. We invite everyone to participate on behalf of any of these causes, and in doing so, raise awareness of these conditions:
• Asthma
• Autism
• Diabetes
• Spinal Muscular Atrophy (SMA)
Each of these conditions is represented by a color, bringing them to life in real, vivid vitality. As a participant, wearing a white T-shirt, you'll be splashed in any one (or multiple) colors as you walk or run the 5K course, showing support for families affected by these childhood ailments.
While in-clinic and outreach programs help educate our patients, the Run for a Cause event provides a tangible experience that represents real issues facing real children in and around our community. Participants and observers alike will learn about and become more aware of specific childhood concerns.
Proceeds from the event, raised through registration fees and sponsorships, will be reinvested in the community in support of families affected by these chronic conditions. CBHA will use funds from Run for a Cause to help families of children with special needs by providing much-needed items or services, like wheelchairs, glucose monitors, and therapies. After identifying and filling the needs of at least three local families, remaining funds will be donated to the SMA Foundation. If donations allow, CBHA will grant trips or experiences to as many special needs families as proceeds allow.
This inaugural event is an opportunity to bring the people of our community together to enjoy good, wholesome fun with the race and post-race lawn games and snacks for the entire family. Each participant walks away with a sponsor-branded goodie bag and the satisfaction of contributing to a positive cause.
To register for Run for a Cause, go to CBHA.org/Events and find the events page. From there you can register for a family-friendly fee of $10, which will include entrance to the run as well as a reusable bag with fun goodies inside. You can also come to the event on the day of the Run for a Cause for a fee of $15.
We look forward to seeing you there!