Holy Smokes
Two-dozen fires and over 250,000 acres are burning throughout Washington and Oregon according to Sunday's report in The Seattle Times.
Residents of the Columbia Basin have noticed the change in air quality, with smoke clearly visible. The Department of Ecology has classified current air quality as "very unhealthy" in nearby Okanohan County, Quincy, Moses Lake, Leavenworth, and Ellensburg.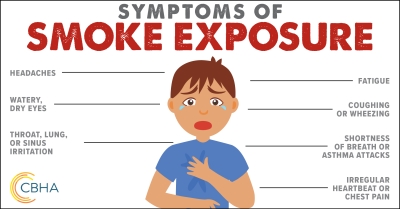 If you find yourself coughing, sneezing, short of breath, or fatigued, you're not alone. Wildfires cause gas and fine ash particles to be released in the air, which cause irritation if inhaled.
Be Aware of Symptoms
The National Institute of Environment Health Sciences suggest there are many negative health effects related to poor air quality. The amount and length of smoke exposure can increase your risk of symptoms.
Watch for these symptoms, and if they become severe, visit your nearest CBHA location for immediate care.
Watery, dry eyes
Coughing or wheezing
Shortness of breath or asthma attacks
Throat, lung, or sinus irritation
Irregular heartbeat or chest pain
Headaches
Fatigue
Protect Your Health
People with chronic conditions, such as cardiovascular or lung disease are more likely to experience serious health effects. Children and elderly populations are also at higher risk.
As smoky conditions continue, CBHA advises protecting yourself by:
Staying indoors when possible
Avoiding strenuous activities that cause heavy breathing or increased heart rate
Closing windows and doors to reduce smoke particles in your home
Setting air conditioners to recirculate air
Using air filters
Rolling up car windows and using in-car air conditioning
Wearing protective masks or scarves when outdoors
Clearing your home of allergens
Limiting tobacco use and other smoke inhalation
For more information about health risks or to make an appointment with a physician, contact CBHA at 509-488-5256.