Congratulations Firestarter Raul Mendoza!
Raul Mendoza, PA-C at the Mattawa Family Clinic arrived at work recently and, as usual, he promptly checked his schedule. To his dismay he found that some time had been blocked from his schedule so he could meet with Nieves... Nieves Gomez – CBHA's CEO!
He remembers thinking "there must be something wrong, a DLI problem, something," because he had never been scheduled for an official meeting with time blocked from his schedule. Imagine his surprise when Nieves, along with the CBHA Executive Team and others suddenly surrounded him and told him he had been chosen Firestarter of the Month, shook his hand and congratulated him.
"I was so surprised!" Raul said. "It is very nice to be recognized – a very thoughtful gesture for them all to come out to honor me."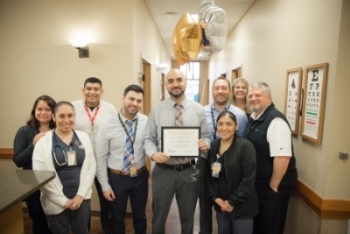 Raul was quick to acknowledge others whom he credits for his success. "Miguel Blas-Matus, PA-C, and Arturo Rojas, PA-C, were working here when I started four and a half years ago," Raul said. "They helped me out from the beginning, enabling me to grow professionally. I also want to give a shout-out to Dr. Elali. He is my preceptor; he has shown me the way and is always there for me." Raul's care team also includes Cynthia Munguia and Jennifer Padilla. "We've been together the past two years and have become a cohesive team," Raul said. "Our team succeeded in earning a 100 percent score on our UDS numbers this past quarter. We are all so proud of this accomplishment and think it has to do with the fact that we have worked so closely together. I have also come to know and have a deep respect for our patients."
Raul was nominated for this honor by Reina Lara Candido, PSR, and Fatima Romaro, PSR. They point out that Raul "has an awesome work ethic and very a positive attitude". Raul's patients know he cares about them by the way he treats them. He goes out of his way to greet people and ask how they are doing, if their medication is working, etc. Patients often request to see Raul as a provider and comment that "he is polite and easy to talk to about any problems they might have".
The favorite part of Raul's job occurs right after he first enters a patient's room. "I like to sit down and just talk to the patient for a little bit," he said. "I don't want to worry about the chart at that point – just sit and connect with them about what's going on in their life."
Raul describes himself as "a home body" when he's not working. He enjoys spending time with his wife and sons, ages 10 and 16. "Both boys are in sports and we keep busy going to their games." Raul loves to fish! His family lives close to the Yakima River; he tries to go fishing at least once a month. "We also like to get together with our families for dinners, barbeques and 'hang out' time."