From Customer Service to Crunching Numbers

Aries Gomez first came to CBHA in 2006, working as a Pharmacy Assistant. After a year in this role, she decided to pursue her secondary education.
Aries attended Eastern Washington University, earning a bachelor's degree in accounting and continuing on to earn an MBA from Washington State University Tri-Cities. With degrees in hand, Aries was excited to return to CBHA.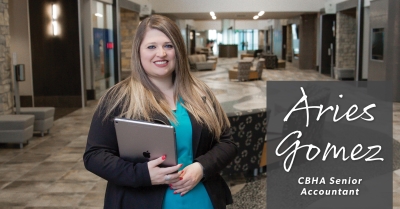 She was a staff accountant at CBHA for five years, using her business education and analytical abilities to help administer the revenue cycle side of accounting, accounts receivable, and calculating score cards. Working with reimbursement from insurance and managed care contracts are also key part of her role.
Aries enjoys the diversity of her work.
"I get to provide financial reports to leadership, and I know that long-term planning decisions are based on the information I deliver. I also see how we are reimbursed, how that works, and how the entire organization works as a whole."
Aries was recently promoted to Senior Accountant. In the coming year, Aries plans to work to become a Certified Public Accountant (CPA), and she hopes to pass the exam in the near future. She wants to provide more value to the organization.
"I think it's a privilege to work at CBHA. If you give 110%, you will do well here. CBHA really treats their employees well. I've enjoyed my time here, and I love that we provide important services to our community.
If you want to be a part of the CBHA Experience we are always looking for talented and passionate individuals.
Learn more about CBHA and explore current career opportunities.