You Ran. You Walked. You made a difference.
"It was amazing to see CBHA and our community come together like this"
You connected to the cause, to our area children and to our community. On September 29th more than 750 of you participated in our first 5K Color Run: CBHA Run for a Cause. We were overwhelmed by the community's response. With 550+ walkers, runners and strollers, as well as dozens of CBHA staff and 200+ volunteers, we exceeded our goals in terms of funds raised and community involvement.
"We had a great turnout," said CBHA Chief Executive Officer, Nieves Gomez. "It took a tremendous effort from CBHA staff to put this event together and it was all worth it!"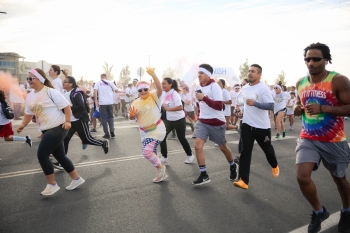 Each color used in the first annual Run for a Cause represented a chronic childhood condition affecting children in the community. Special needs included: Asthma (pink), Down syndrome (blue), Autism (orange), Spinal Muscular Atrophy (purple), Childhood Diabetes (yellow), Behavioral Health (green), and celebrating all children with specials needs (red). Learning about each condition proved to be educational, but also inspiring, as the strength and determination of the families of children with special needs was so evident.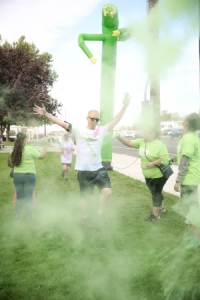 "I had the opportunity to meet Harper Ramos, a 5-year-old child with SMA Type 2 and his mom, Crystal, who really connected all this to purpose," said Nieves Gomez. "I learned that Harper has a twin, Hendrix, who also was diagnosed with SMA Type 2. Supporting families that face these types of challenges every day is just the right thing to do."
With the weather cooperating, participants turned out in even greater numbers than had originally signed up. Everyone enjoyed the thoughtful planning and celebratory mindset that was central to making this event happen.
"It was a very amazing experience to be part of something like this. I'm very proud of everyone who made this possible," said Tenchy Lara-Garza, Run for a Cause participant. "It was so much fun," echoed Jeanette Carmona, another participant. From face-painting to Photoboxx pics, soccer to snow cones, there was plenty of fun to be had ­­— all while raising money for a great cause.
"It was so amazing to see CBHA and our community come together like this. Everyone really got behind this event. Many community members and several Othello High School students were part of the run as volunteers!" said Kristen Stevens, CBHA Health and Wellness Director.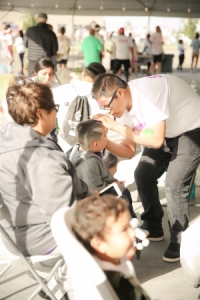 "This type of event is what community is all about. We intend to host a 2019 event — we are confident it will become a successful tradition," said CBHA CEO Nieves Gomez. Others seem to heartily agree: "CBHA, thanks for the totally cool Color Run! You all did a great job. Organized, friendly, great cause and family friendly. Loved it! Thanks you!" said Stacey Hillman.
Thanks to the community for turning out and to our generous partners, not only was CBHA able to make a considerable donation to support research for cure and treatment of Spinal Muscular Atrophy (SMA), but CBHA will also be able to provide support for several families and their children with special needs.
CBHA Chief Operations Officer, Blake Barthelmess, was also pleased with the perfect combination of activity, involvement and education. "We were very excited to celebrate wellness in our community with the Run for a Cause event and appreciated the incredible turnout. This level of participation is an important part of raising awareness in our communities."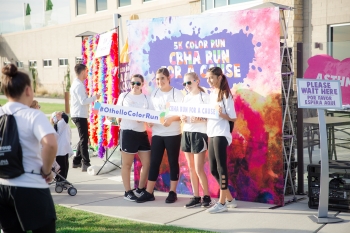 This event wouldn't have been the cause for celebration that it was without you.
Your participation, your excitement and your support for children with special needs is clear.
"I can't wait for next year's Color Run," said Kristen Stevens. "It was that much fun!"
The 5K Color Run: CBHA Run for a Cause was a fantastic opportunity for community members to get onto the new campus in Othello. Since opening the new location in the fall of 2017, CBHA leadership has continued to seek opportunities to bring together community members.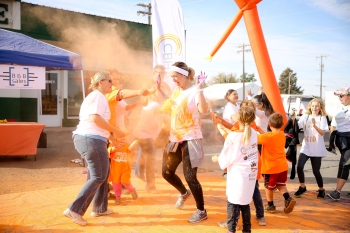 In addition to more typical educational classes for patients, CBHA has also offered lunch and learn events on mental health and self-care, a Mother's Day celebration event in May, and a summertime health fair for families. Health and wellness classes like yoga and Zumba are also offered as part of an ongoing wellness effort aligned to the TotalYou health program.