CBHA Announces New CEO Nieves Gomez
CBHA (Columbia Basin Health Association) announced today that its Board of Directors has chosen Nieves Gomez as the organization's next President and Chief Executive Officer. Gomez will succeed Greg Brandenburg, the current President and Chief Executive Officer, on March 1, 2018.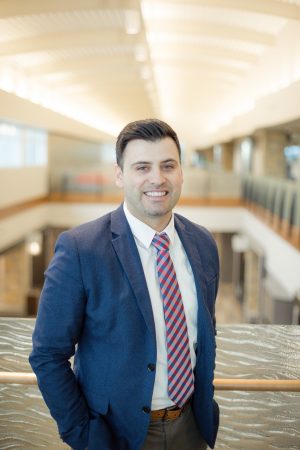 "After thorough succession planning and a comprehensive search process, the CBHA Board of Directors is pleased to have found the best fit to assume leadership of our outstanding rural healthcare organization," said Mike Garza, Chairman of the CBHA Board of Directors. "Nieves' recognition as an exceptional leader in healthcare, coupled with his education and commitment to organizational growth and improvement make him an ideal selection." Mr. Garza would like to thank the entire board and Executive Team for their participation in the selection process. Mr. Garza expressed his appreciation for everyone's efforts and input regarding this extremely important decision.
Nieves started his career with CBHA eleven years ago as a summer intern, and has advanced through the leadership team, serving as Clinic Manager and Vice President of Operations.
The selection of Mr. Gomez caps a search process facilitated by Witt Kieffer, a global executive search firm specializing in placing healthcare executives in some of the nation's largest and most prestigious healthcare organizations. The Board of Directors thanks Steve Yamada and his Witt Kieffer team for all the hard work and support throughout this process. A large initial prospect pool was narrowed to a group of three external prospects and four internal candidates, all of whom interviewed with the Board's Search Committee. The final two candidates moved into a final round with the full CBHA Board.
"Nieves is a young man with character and enduring values," said Greg Brandenburg, outgoing CEO of 20 years. "He has grown with CBHA as a successful executive, and has the confidence and thought leadership to take CBHA to the next level. He believes in and lives CBHA's mission, is a patient champion, and delivers value-creation with extraordinary results. Nieves is a valuable leader who has been responsible for a great portion of our success over the last five years. I would like to thank the Search Committee and CBHA Board during the succession planning and recruiting process. The Board can take pride in the success of the organization in the last 20 years, and I have no doubt that the work they have put in to build this organization into the best rural healthcare organization in the United States will continue under Nieves' leadership."
"I am incredibly humbled and excited about the opportunity to lead such a passionate and talented group of people. CBHA is positioned to become the new standard in healthcare in rural United States. Greg Brandenburg has been an excellent visionary leader for CBHA over the last 20 years and we are thankful for the leadership he has provided to put in place the right vision, strategy, and thoughtful succession plan for long-term success. I am committed to continuing my strong relationship with Greg, the Executive Team, the Board of Directors, and our wonderful patients to continue this momentum and capture the great opportunities in front of us." Gomez said.
An Othello native, Nieves Gomez has been a part of the CBHA family for the past eleven years beginning with a focus on Behavioral Health and outreach. Gomez holds a Masters of Public Administration and a Masters of Social Work from Eastern Washington University. Over his tenure with CBHA, Gomez has served as Site Director for CBHA's Mattawa facility and the Director of Quality. In November 2016, Nieves became Director of Operations, and in mid-2017 the Vice President of Operations, reporting to the COO. In this role, he had over site of three Site Directors, the Pharmacy Business Manager, Vision Business Manager, Contact Center Manager, Facilities Manager and Cafe Coordinator (in the Othello facility); and has management oversight of over 90 other employees. As Vice President of Operations, he directed the development and implementation of strategic operational plans for clinical programs, including process improvement initiatives and leadership for IT operations.
Gomez is married with three wonderful children. He celebrates his ties to the communities within the Columbia Basin and is passionate about CBHA's mission. He enjoys spending time with his family, playing guitar, catching a movie once in a while and playing soccer when he can.
About Columbia Basin Health Association
Columbia Basin Health Association is a mission-minded integrated healthcare facility based in eastern Washington State. Established in 1971, CBHA provides top-tier medical, dental, eye, behavioral health and other clinical services to over 171,936 patients annually throughout its Othello, Mattawa and Connell locations. Each year the organization is recognized among Federally Qualified Health Centers (FQHC) for its commitment to innovation, compliance, and delivery of quality health care.