Cutting Edge Tech
Introducing the new CBHA Eye Care Lab – creating high quality eyewear and world-class lenses with faster turn around in our own facility. Patients of CBHA's eye care services will now be able to receive new prescription glasses faster than any competitor in the area.
Better yet, all of CBHA's prescription lenses come with "CBHA Armor" – premium coatings and treatments that typically only come with higher costs. Patients will enjoy access to high quality frames, world-class lenses with a turnaround time measured in hours, not weeks.
STREAMLINING THE EYEWEAR PROCESS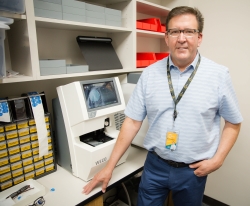 One reason that eye wear is often so expensive is that there are usually several businesses between the manufactures of frames and lenses, and the retailers that sell them. By working directly with leading manufacturers, CBHA has been able to streamline the process and improve the quality of the glasses we sell.
What makes this simplified process possible for CBHA is custom technology (edgers and tracers) and in-house expertise. CBHA has invested in the latest lens shaping technology used anywhere, ensuring that each lens has been precisely cut to fit your exact prescription. Your perfect prescription, perfectly fit in your desired frames, every time.
What are edgers and tracers? A tracer is exactly that – it will trace the inside of the selected frame, creating a template for the edger to use. The edger cuts the blank into a prescription lens.
CBHA's newest Optometrist, Dr. Robert Forbes, says, "We were looking to improve quality first and foremost. We are now cutting the lenses and fitting them to the frame, and we're doing it right here in the clinic. We don't have outside businesses involved in this process. We went directly to the manufacturers to purchase the lenses. that we'll cut ourselves. This allows us to offer the best quality on the market at the lowest possible prices. CBHA patients will enjoy higher quality eyewear at the most competitive prices of any other retailer in the area."
ALL THE BELLS AND WHISTLES FOR LESS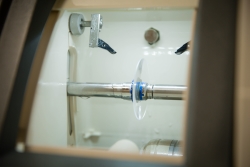 Options for lenses that previously added hundreds of dollars to the cost of the glasses will now come standard. CBHA is committed to providing patients with excellent quality eyewear, referring to this quality bundle of coatings as "CBHA Armor."
• Scratch resistant coating – standard.
• Anti-reflective coating – standard.
• Protective coatings – standard.
• Thinner, lighter, higher-end lenses – standard.
• More durable options – standard.
The bottom line for our patients is simple: CBHA is making "premium" the standard for our patients, with every prescription eyewear purchase. "The glasses we offer will have all the bells and whistles of premium lenses, but at substantially lower costs than even the entry level lens have previously been," says Dr. Forbes. "We truly are providing our patients the very best that money can buy." Having worked with the edging equipment for more than thirty years, Dr. Forbes has trained the eye care staff on how to use it and his expertise will help the team raise the bar as they continue to offer excellent optometry services.
CONVENIENCE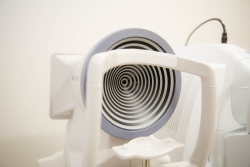 Before this edging equipment was purchased, CBHA patients and community members sometimes had to shop around, traveling hours out of the area for prescription lenses in search of the best deal, and then waiting up to three weeks for their glasses.
With CBHA's eye care lab, the turn-around time for standard prescriptions will be just twenty-four hours. In emergency situations, the glasses may be available the same day. No more long trips, no more lengthy delays. And patients will get the best quality product at an extremely competitive price.
More complicated prescriptions will take about a week, and highly customized progressive lenses (or bifocals) may take a bit longer. Even with a week's wait time, the turn-around for more complex prescriptions will still be considerably improved.
CBHA offers a wide variety of brand name and budget frames, great turn-around times, competitive prices, and incredible lens quality – there's just no reason to go anywhere else. Dr. Forbes says, "It's just a huge improvement in convenience to produce the glasses locally. I'm really excited for what this will mean for CBHA patients."
ADDITIONAL OPTICAL TECHNOLOGY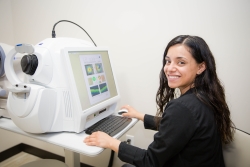 Lens cutting equipment isn't the only advanced technologies CBHA has to offer. The Corneal Topographer measures the topography of the cornea (like a surface map), which allows optometrists to diagnose disorders like astigmatism, keratoconus, and marginal degenerations. It also allows for the identification of diseases and allows contacts to be fitted on complicated corneas. "The Corneal Topographer allows us to take an in-depth look at the corneal tissue, and better diagnose patients by detecting corneal irregularities that lead us to detect disease in cornea more quickly," says Dr. Forbes. "Often times we are able to detect an irregularity that hasn't even affected the patient's vision yet – but could in six months or so."
CBHA also has an Optical Coherence Tomography machine, or OCT, that provides a more focused, 3-D examination of the retina. "An OCT isn't common in rural clinics at all. Many medium-sized cities don't even have it. It's very unusual for a rural clinic to have this technology," says Dr. Forbes. "With the OCT, we can assess under and on top of the retina, examining it in three dimensions. This is one of the higher levels of technology available. And it allows us to detect ocular disease we wouldn't see as easily without it."
EASIER PATIENT ACCESS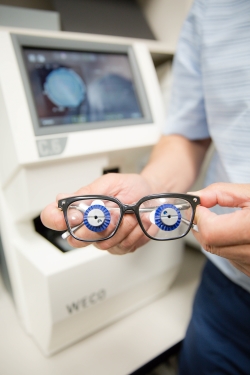 With four qualified providers (including Dr. Forbes) the patients' access to eye care has been improved. Previously CBHA's patients waited weeks to get in to see a provider. Now, the time between calling for an appointment and seeing a provider will be reduced to mere days.
Perhaps CBHA patients have heard the phrase: "You can have it good; you can have it fast; or you can have it affordable. Pick two." With the technology and professional expertise available at CBHA, patients don't have to choose. They can have all three - premium quality glasses, quick turn-around times and the lowest prices available anywhere. Call to schedule an appointment today. 509-488-5256