Quality Eye Care Meets Big City Lab Capability-Right Here in Othello
Those who wear corrective eyeglasses know that the process is seldom instant. But receiving superior quality prescription glasses after an exam just became a whole lot easier and more efficient. Eye Care patients will now be able to expect the same exceptional quality in lens production that they've come to expect in eye exams from CBHA's highly trained opticians.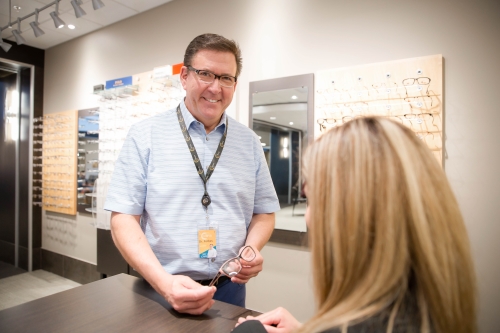 Since Dr. Robert Forbes joined the Othello Eye Care staff in March of this year, his focus has been to set up a new CBHA Eye Care Lab. The addition of the new lab means that patients will be able to have their prescription glasses manufactured in the Othello clinic. Dr. Forbes and the entire CBHA staff are excited about offering this new service to patients. "We are now cutting the patients' prescription lenses and fitting them into frames," Dr. Forbes said. "All the lenses come with 'CBHA Armore' which involves premium coatings and treatments that typically come only with higher costs. It will be standard on all the lenses we cut at no increased cost." Patients will enjoy the same access to high quality frames, including brands like Michael Kors, Ray Ban, and Oakley – but with world-class lenses and a much quicker turn-around time. The Eye Care Department is now open Monday through Thursday from 8 am to 7 pm and on Fridays from 8am to 5 pm.
About Dr. Forbes
Dr. Forbes was born in Vernonia, OR where he lived with his family until he was 12 years old. They moved to Jefferson, Oregon when his father accepted a position there as principal of the Elementary School. His mother was an elementary teacher who taught in the same school. "Jefferson was affectionately known as the 'Peppermint Capital of the World'" he said. "When I was in high school, I worked in the fields changing water so I smelled like peppermint all summer!"
Dr. Forbes went to Oregon State University for the majority of his undergraduate studies. He earned a Bachelor of Science degree in physics from Pacific University in Forest Grove, Oregon. He received his Doctor of Optometry degree from Pacific University College of Optometry.
Timing is Everything
Dr. Forbes first interviewed at CBHA six years ago. "I was very interested in moving here at that time," he said. "However, my teenage sons convinced me to allow them to finish high school where they were, so we remained in Oregon." He was pleased to see the opportunity open up again. "The boys have graduated since then – so here I am!"
Dr. Forbes is an experienced optometric practitioner with 25 years of clinical expertise. "I have performed the full scope of eye care – from a commercial practice at Lens Crafters to personal practice and group practice; I've also run an optical lab. It has been very rewarding. However, there was one thing that always concerned me. On occasion I would refer a patient out for specialized care. I never knew whether they had actually gotten that care. One of the things that attracted me to CBHA is that here I will have the ability to follow up on patients and know that they were taken care of."
A Passion for Medical Mission Work
Dr. Forbes joined the Oregon Air National Guard in 1984 and continues to train once a month and two weeks a year – in the Washington Air National Guard where he serves as optometrist. "The biggest joy in my military career has been my air medical mission work. You talk about going on missions to do good for others. It's the other way around – I have gained so much more from helping others than I have given. I went on the first humanitarian mission in 1992 to an underserved area in Mexico," he said. He has "been hooked" on it ever since. "It was eye opening for me; I hadn't had any exposure to their community before. The people who came to our mobile clinics dressed in their best clothes –hand embroidered white dresses and white shirts which were spotlessly clean. To them it was an honor to come and receive care. Happy people, smiling people. They had nothing; yet they were happy." He saw the same attitude in other countries as well.
Dr. Forbes began his military career as a Life Support Specialist. He prepared survival gear for the pilots and then ran courses on what to do when you jumped out of an aircraft. He was a bit conflicted at the beginning of his career when he was informed that he had been accepted into optometry school. Upon the recommendation of his commanding officer he gave up his dream to be an aviator and became an optometrist instead. "I have never regretted it. I love taking care of my patients; my time in the Air National Guard has also been very rewarding."
Happy to be in Othello
Opening the Eye Care Lab and training staff to use the equipment has been a welcome new challenge for Dr. Forbes. He looks forward to filling prescriptions from all CBHA clinics in shorter timeframes than the community has ever experienced.
And, as someone who thoroughly enjoys the outdoors, Dr. Forbes looks forward to becoming more familiar with the recreational opportunities in Central Washington.
You can find Dr. Forbes Monday through Friday at the Othello Clinic. The Eye Care Department is now open Monday through Thursday from 8 am to 7 pm and on Fridays from 8am to 5 pm.