Welcome Dr. Francisco Prada, MD
Dr. Prada's growing up years were spent in Bogota, Colombia where he attended a British School. He is a native Spanish speaker and also speaks English fluently. He graduated from Lynn University in Boca Raton, FL with a BS in Biology in May, 2007. He attended American University of Antigua College of Medicine in Antigua and Barbuda in 2014. Post graduate training took place at Wellstar Atlanta Medical Center Family Medicine Residency in Atlanta, GA in June, 2018. He was chief resident there.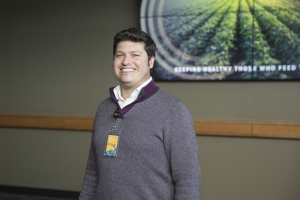 Even before entering medical school, Dr. Prada knew he wanted to care for underserved populations as well as undocumented people who face a lot of hardships in their daily lives. He also thought he wanted to concentrate his energies working with pediatrics. However, he added obstetrics to his wish list after he saw how much he enjoyed working with families. Several family medicine conferences in 2016 and 2017 only strengthened his resolve to concentrate on this type of medicine.
Dr. Prada had specific criteria in mind as he began his search for a clinic setting. "A lot of organizations have good intentions but not the leadership to provide the right kinds of support and tools for medical providers to do the job," he said. "I found that CBHA, with its amazing facilities and equipment, will be able to provide whatever I need to take really good care of my patients."
When not at work, Dr. Prada wants to be outdoors. "I love to spend time with my dog "Diego" (Black Lab). He also can't wait for winter to go downhill skiing and plans to take up cross country skiing. He likes biking and will buy one soon. "I arrived in Othello in time to participate in CBHA's "Color Run" the end of September." Volunteering rounds out the things he likes to do in his spare time.
See his English Welcome Video HERE, Spanish Welcome Video HERE.
Dr. Prada has begun seeing patients. Call CBHA to make your appointment! 509-488-5256