Welcome Syed Gillani, MD, DO
It has been said that we all have a story to tell -- our own personal stories about where we are from, what has shaped us into the person we are today and where we might be going from here. Dr. Gillani is no exception. He was medical director of a 17-bed level IV trauma medical center hospital and clinic in Kashmir, Pakistan in 2001 when he was diagnosed with aggressively growing tumors and was given six months to live. He was told there was no treatment for this particular condition in Pakistan.
"I would have to come to the United States for treatment. I had no choice but to leave my country," he said. "I exited the plane in a wheelchair when I arrived." Thus began a new chapter in his life…a new journey both mentally and physically.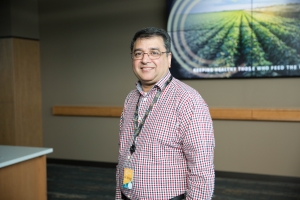 "I was treated for cancer at the University of California San Francisco (UCSF) Comprehensive Cancer Center. I was on Medicaid for the first year of treatment. I learned what it felt like to sit in the waiting room with other people who were also seriously ill – what it felt like to bear the stigma of needing to be on Medicaid. I sat with the migrant population and felt with them the humiliation of being treated differently from those on insurance or paying with cash. A new sense of what it meant to be compassionate swept over me and I vowed to really show compassion to all my patients in the future."
Even though he had been approved for disability, after that first year of treatment, he never accepted it. He worked throughout the remainder of his treatment to support himself – first as a laboratory technologist and then as a tissue recovery specialist, coordinator, and leader of tissue and organ recovery team. He began to dream about living "the American dream." He also worked as a microsurgery instructor and researcher for two years.
At that point, he decided to return to medical school. He had previously obtained a medical degree in Lahore, Pakistan. He enrolled in the New York Institute of Technology College of Osteopathic Medicine and obtained his Doctor of Osteopathic Medicine in May of 2014.
He went on to do a three-year residency program in Pueblo, Colorado; he also completed a Rural Medicine with Obstetrics Fellowship at Tacoma Family Medicine at Tacoma, Washington. He hadn't been allowed to practice obstetrics in Pakistan for religious reasons in that culture. "Taking care of expectant mothers and delivering babies is an important part of what I do now and I find it very rewarding. Now I am actually living the 'American Dream'; I am healthy, and very grateful for the opportunities I have been given. I want to always greet my patients with a smile and a compassionate attitude."
Dr. Gillani is excited to begin his medical practice in Othello and soon in Mattawa -- and to get to know his patients. Coming from Pakistan, his native language is Punjabi. He also speaks English fluently and can speak some Spanish. "I am already working to improve my Spanish." He also wants to become acquainted with people in the community.
In his free time, Dr. Gillani enjoys several hobbies. "I love to cook; it is my way of relaxing. I like to cook Indian, Thai, Chinese food, whatever. I have participated in international dinners in the past – lots of fun!" He also likes to write. "I am often inspired to write about personal experiences or when something touches my heart. I enjoy listening to music – all genres. My favorite singer is Andre Bocelli. I enjoy walking and taking photographs."
See his Welcome Video HERE
Dr. Gillani has begun seeing patients. Call CBHA to make your appointment! 509-488-5256