A Series of Miracles
Reverend Donald Short and his wife, Anna moved to Othello in March, 2017 when he accepted the position of full-time pastor at Pilgrim Lutheran Church. They quickly settled into the life of the church and became active in the community.
Rev. Short led worship services as usual on Sunday, January 14, 2018. "I left right after the service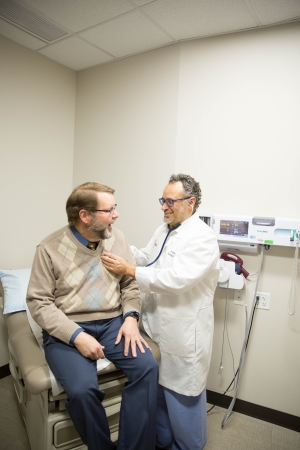 and drove to Portland where I spent the night with my son and his wife before driving on to Cannon Beach, OR the next morning to attend the Byberg Preaching Conference," he said. "I remember arriving in Cannon Beach which is the last thing I can recall about the following eleven days."
Miracle # 1
Even though Rev. Short doesn't remember doing so, he checked into the hotel on Monday, January 15th and attended lectures all afternoon.
He returned Tuesday, the 16th and listened to lectures until the mid-afternoon break when he returned to his room. It was there that a large DVT blood clot broke loose and traveled to his lungs causing him to go into pulmonary embolism. Somehow he managed to call 911 on his cell phone before he collapsed. Local Emergency First Responders traced the call to his room and raced there to administer lifesaving treatment. He was taken to the emergency room in Seaside Hospital where they worked to stabilize his condition enough to tolerate further treatment.
Miracle #2
He was airlifted to St. Vincent's in Beaverton, OR. It was there, while he was in the emergency room, that his heart stopped and CPR was administered. He remained on life support for ten days in the Intensive Care Unit.
"I remember waking up and seeing a cross on the wall and thinking Anna must have bought a new one because it didn't look like the one we have in our bedroom," he recalls. "Then I was aware that there was something in my mouth that felt like a straw. I was restrained but didn't know it at the time. I drifted back to sleep."
The next thing he heard was Anna's voice saying "you're doing really well, you're doing really well." At some point the intubation tube had been removed and then he heard the calm voice of Martin, his nurse, explaining that he had had a very serious medical incident resulting in him being on life support.
Martin mentioned that his chest might be a little sore from the CPR but that he was doing well now and "we think you're going to be just fine."
Things moved rather quickly after that. The following day, with the aid of a lift, Rev. Short was out of bed and sitting up in a chair. "I was surprised at what a commotion that caused among the staff," he said. "It had been a bad week in the ICU and many patients had died from their injuries and illnesses. Though on life support, I had survived and it gave everyone a big boost."
He was only in ICU one more day before being moved to a general floor. Rehabilitation continued for another week at Portland General. He was pleased to be able to walk out of the hospital using only a cane when he was discharged from the hospital on February 8th. Physical therapy continued with Nathan Gerber at the Othello Hospital, and with Nathan's help the cane was no longer needed.
Miracle #3
A short time after returning to Othello, Rev. Short went to CBHA to be seen by his physician, Dr. Bashar Elali for follow-up care.
Physicians in Portland were insistent that he do this. When Dr. Elali had reviewed Rev. Short's medications and finished the evaluation, Dr. Elali said after a major medical incident, it would be best if you saw a cardiologist," words Rev. Short remembers to this day. Dr.Elali wrote a referral. Rev. Short made the appointment.
"I didn't know at the time that this referral would save my life," he said. The cardiologist first examined him and administered a stress test. He wasn't satisfied with the results and ordered an angiogram. Rev. Short wasn't alarmed. Although he knew he had a family history of heart disease, he was feeling good after recovering from the embolism.
He was shocked to learn that he needed immediate open heart surgery. The angiogram revealed one artery was 99 percent blocked and five others were partially blocked. In addition, his aortic valve was leaking. Surgery was successfully performed on April 12th.
Rev. Short returned to Othello a week later. Cardiac rehab followed. He resumed full-time ministry in June of 2018.
Dr. Elali recommended walking so Rev. Short and Anna began taking short hikes in the Columbia Wildlife Refuge. They are now members of Anytime Fitness and exercise regularly.
What Dr. Elali advised against while in recovery from heart surgery was kayaking, a favorite pastime of the Shorts. This year he has been cleared for regular activity and they will resume kayaking the seek lakes along with hiking in the Wildlife Refuge in the spring.
They are grateful for the amazing care that Don received from so many. "I also know that a large number of people were praying along with me, not only daily but hourly. I am the recipient of many miracles," he said. "Dr. Elali is a fabulous physician. He obviously saved my life!"
What Causes Deep Vein Thrombosis Blood Clots?
"A lot has been written about this topic," Dr. Bashar Elali said. "We know that blood clots of deep vein thrombosis can be caused by anything that prevents blood from circulating or clotting normally, such as injury to a vein, surgery, certain medications and limited movement."
This happens when blood clumps up in one of the veins deep inside your body, typically in your legs, according to the National Heart, Lung and Blood Institute. There is also a genetic component as well as family history that may play a role. Sometimes this kind of clot can dissolve without causing damage, but other times it can break off, travel to your lungs, and block blood flow.
"This is what happened to Rev. Short," Dr. Elali said. "While it is true that he had had prolonged periods of sitting prior to his life threatening event, we will never know for certain what actually caused it."