Columbia Basin Explorations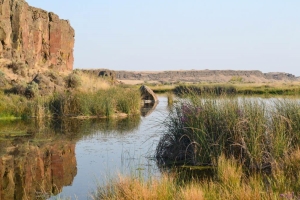 Explorations is a recurring feature of Hometown Health. We like to highlight destinations throughout our region which make our communities and surrounding areas great places to live and play.
The Columbia National Wildlife Refuge is located about five miles north of Othello. To get there simply drive north on Broadway Avenue until it turns into McManamon Road. Turn right on Morgan Lake Road into the Columbia National Wildlife Refuge. You have entered a world of wetlands and uplands to view birds and other wildlife, a diversity of habitats and the magnificent geological features of Ice Age Floods.
Robert McCrorie, CBHA Physician Assistant, discovered this incredible sanctuary when he moved to Othello during the summer of 2018. It quickly became his favorite place to hike.
The floods occurred when Glacial Lake Missoula's ice dam broke loose, sending hundreds of cubic miles of water through Northern Idaho into our region to scour out Washington's scablands. The floods cut through volcanic Columbia River Basalt within the Drumheller Channels just northwest of Othello. Robert is amazed at the beauty of this area with giant basalt columns, dry falls, plunge pools, waterfalls, seep lakes, fishing lakes and hiking trails. He is looking forward to seeing the wild flowers which dot the landscape this time of year.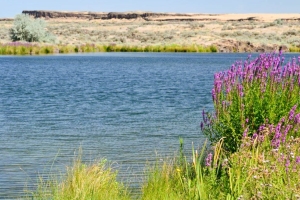 Othello's 22nd annual Sandhill Crane Festival was held recently. This festival celebrates the spring return of the Lesser Sandhill Cranes to the greater Othello area and the Columbia National Wildlife Refuge. These cranes stop off to rest and feed on their long journey from Southern California to Alaska where they nest, and raise their young before returning in the fall. Not all the cranes have migrated yet. Keep your eyes trained upwards. If you see a very large white bird with a red eye patch, it is probably a Sandhill Crane. They have a unique call which is certain to catch your attention.
It is a rattle with a coo on the end. If you haven't already done so, treat yourself to a hike in the refuge. Wear your hiking books and bring your binoculars!