Combining Military Mission and Optometry
Dr. Robert Forbes has been treating patients at CBHA's Eye Care Clinic in Othello since March of 2018. His first task upon arriving in Othello was to set up an eye glasses manufacturing lab in Othello. "Patients are enjoying the convenience and cost savings of having their glasses manufactured locally," Forbes said.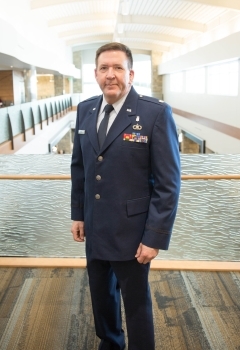 Dr. Forbes is also a Lt Col and Chief of Optometric Services for the Washington Air National Guard. He is in his 24th year of service. He has participated in numerous training and humanitarian missions domestically and internationally.
His most recent trip was to Hawaii in August of 2018 where he was in charge of a team of 14 optometrists and over 30 technicians. Clinics were set up in Hana, Central Maui, Kihei, Lahaina, Lanai and Molokai. "The people who live here are very underserved – especially the indigenous people," Forbes said.
He pointed out that these missions are also about training troops. "In an effort to train troops in an environment where we can set up an austere clinic for young airmen, soldiers and sailors, and run medical facilities in available buildings or outside in tents, we do these domestic missions so we can train soldiers without bullets flying overhead. It serves a joint mission with us being able to also provide medical, dental, vision and mental health care to people who might not have it otherwise. Poverty levels on the Hawaiian Islands are very high."
Dr. Forbes received the Innovations Medal for Meritorious Service on this mission because he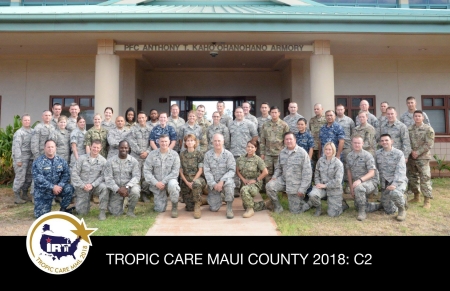 developed a system wherein eye glass prescriptions written by providers in the remote sites could be transmitted electronically to the lab enabling lab personnel to manufacture them as soon as they were received. "This allowed shifts to be cut from 24 hours to 6 hours," Forbes said.
Missions of this type usually run for two weeks. "We ran into some snags this time," Forbes said." During that time we experienced a hurricane and an earthquake. Still, our eye care encounters for this mission totaled 4,700 with 2,978 pairs of glasses manufactured and dispensed. And, we got in some disaster preparedness!" No date or destination has been set for the next mission.