Leading the Way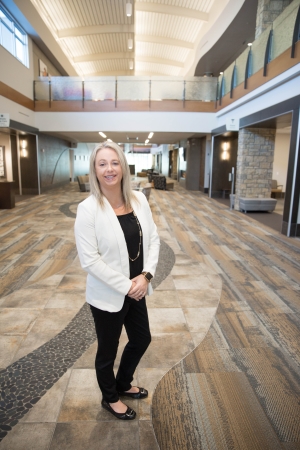 After beginning her professional career journey in banking, Kelly Carlson was looking for a growth opportunity in a new industry. With her degree and several years of financial and process execution acumen, Kelly accepted her first position at CBHA as a medical records clerk.
While she was working in medical records, she seized the opportunity to obtain a certification in healthcare compliance, building on her background in banking compliance. Kelly would go on to obtain additional certifications which include medical coding, MGMA's Medical Practice Executive, and most recently SHRM's Senior Certified Professional.
During her 16 years at CBHA, Kelly has demonstrated her aptitude and drive to learn more about the healthcare industry. From Medical Records, Kelly moved to the Call Center as a Supervisor, and later shifted to Director of Member Navigations which included direct oversight of our referrals and medical records departments. She then would go on to Human Resources, obtaining a designation from the Professional Society of Human Resources Management.
In her current role as Vice President of Administrative Services, Kelly oversees Human Resources, Administrative/Executive Assistants, and Compliance Programs at CBHA. One of her goals in this position is to make CBHA a place of choice for employment, through supporting and helping to develop staff to achieve their highest potential within the organization.
"I always want to be maximizing existing systems and optimizing talent development so that every staff member has the opportunity for the same success many of us who've been here for many years have experienced," Kelly said. She acknowledges that a lot of the outcome is dependent on individual effort as well. "I encourage everyone at CBHA to put in 100% effort, and to obtain as much clinical and operational knowledge as they can. The more we know, the more we can do for others."
Kelly continues to demonstrate leadership and continued learning in her work at CBHA. This dedication to learning, coupled with CBHA's cultural values of professional growth, training and education, has made CBHA a top performer in federally qualified health centers across the country.
If you are intersted in working at CBHA visit our CAREERS page to view openings.