Welcome Robert McCrorie
Robert McCrorie, PA-C, spent his growing up years in Hoquim, WA. He moved to Texas after graduation and worked in construction for six years. He enlisted in the United States Army in 1983 and served on a Special Forces Alpha Detachment in a wide variety of austere environments and cultures worldwide providing planning, medical care, humanitarian assistance, and training for U. S., Allied and foreign nationals. He served as an instructor/writer for combat trauma management at special warfare centers and schools. Deployments took him all over the world – Africa, the Middle East, South East Asia numerous times, Afghanistan, Bosnia , Croatia, Haiti to name a few.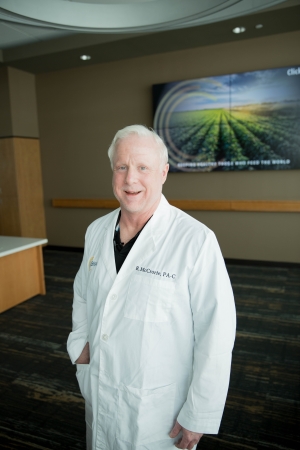 "I especially liked Africa and Afghanistan," he said. "We treated multiple casualties under enemy fire or in a semi permissive tactical environment, triaged casualties and arranged medical evacuations. We also managed detachment, allied and indigenous patients on an outpatient basis." It was hard work but very rewarding. "We knew we were serving people who really needed our help; we were deployed to Haiti when the earthquake struck," McCrorie said. "In Bosnia the US came in as the Serbs were going out. The people who had been forced out were now able to return. However, they were returning to cities and homes that had been completely destroyed."
McCrorie's educational background includes a Bachelor of Health Sciences from Campbell University in Buies Creek, North Carolina and a Master of Health Sciences, Emergency and Disaster Management from Trident University in Cypress, CA. He put this education and training to good use as he organized and conducted unit training in tactical combat casualty care and coordinated medical support. He retired from the military in 2010. He was the recipient of many awards including the Bronze Star (two times), Meritorious Service Medal (five times), Joint Service Commendation Medal ,Army Commendation Medal (four times), Joint Service Achievement Medal, Humanitarian Service Medal(two times) and the NATO Ribbon (two times).
McCrorie's years of taking care of people around the world helped him define goals for the next phase of his life. "I knew I wanted to continue caring for underserved populations. I was accepted into the MEDEX Northwest Program at the University of WA in 2016." This program includes rotations in a medical setting. "I was privileged to do one of my rotations at CBHA under the guidance of pediatrician Dr. Gabe Bario. I learned so much from him and others at the clinic. I Knew this was where I wanted to be and I quickly said 'yes' when I was offered a permanent position after I graduated from the program in 2018 and passed the state boards. I love being a part of CBHA's medical provider team!"
McCrorie and his wife, Shelly, have purchased a home in Othello and are busy settling into the community. "I had the advantage of being here for the past eight months so am pretty well acquainted with the area," he said. "I quickly discovered the Columbia National Wildlife Refuge and enjoyed hiking there last fall." His little dog Bella, part Bichon and part Shitzu, is his hiking buddy. The McCrories have two grown children – a son and a daughter. "Our daughter has two sons and our son has two daughters," he said. "We love them all to pieces!" McCrorie also enjoys downhill skiing and biking. He is an avid reader – Charles Martin is his favorite author.