Columbia Basin Explorations - Middleton Fall Festival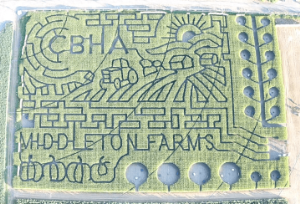 Having community health clinics in Othello, Mattawa and Connell has allowed CBHA to explore these communities, and others nearby, and all that they have to offer such as the Middleton Fall Festival which is located about 25 miles south of Connell. The annual fall festival, in its 6th year, begins the last weekend in September and runs every weekend through October.
The Middleton Family farms 3,000 acres where they raise hay, asparagus, corn, potatoes and more. They developed the fall festival to be family friendly and affordable with events that are suitable for a variety of age levels. "We have found that parents like to pay one price and have that cover everything at the festival," Hayley Middleton, family spokesperson and CBHA employee, said.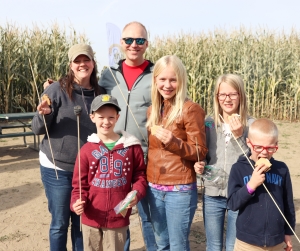 "We charge $12 dollars per person and that covers about twenty activities including one big corn maze, kids corn maze, straw maze, two jumping pillows, a pumpkin patch and two giant slides. There is also horseback riding and potato blasters for an extra small fee."
The Middleton Family with six sons, six daughters-in-law and many grandchildren fully realizes that families face financial challenges on a day-to-day basis and need to get the best value for their dollar.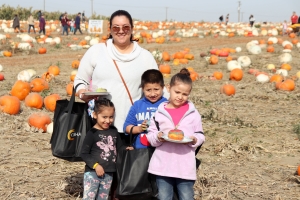 The family starts preparing for the festival early in the year. "We started growing the pumpkins in June and the corn the first part of July. The straw maze was cut the 3rd weekend in July this year and has been mowed and maintained every week since while the corn grew up around it," Middleton said. "The design of the maze was revealed the end of September and features CBHA's logo!"
CBHA is the festival's main sponsor. "The CBHA experience extends from our patients to our employees. We are always looking for ways that can get families together for activities that are affordable, wholesome and fun," Nieves Gomez, CBHA CEO, said.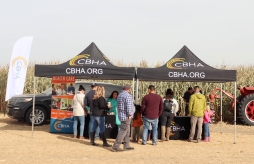 "That is why we had a CBHA day on October 12th at the Middleton Farm Festival! We had over 300 staff and their families out to enjoy all the activities with their families and we had a great time.
"Our collaborative relationship with Middleton Farms works both ways. CBHA's 5K Color Run was the same weekend as their opening weekend for the fall festival. While they couldn't come to our event they are partnering with us and are one of our sponsors for the Color Run," said Nieves.