Focusing on the Mission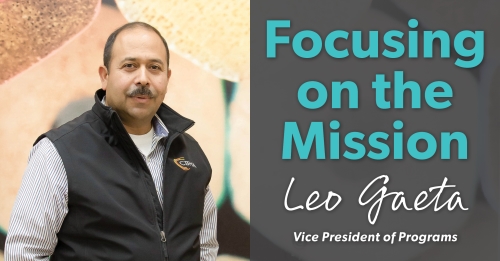 Twenty six years ago Leo Gaeta was working long hours for the county counseling services where he frequently was on call. He remembers the situation not sitting well with his pregnant wife who wanted him home more.
Leo had previously met CBHA's Chief Executive Officer, Leah Layne, and she offered him a position as Program Coordinator with no on-call duties. He agreed to try the position for two years. "Now here I am - 26 years later," he said.
Leo laughs when he says he has worked from the time he was ten years old. It isn't a joke, though, as a unique set of circumstances brought his family to the Othello area at that time. The children worked the fields in addition to attending school.
"Education was important in my family and we weren't allowed to neglect our studies. Child labor laws were more relaxed back then," he said. "We had paper routes; I boxed groceries at Akins grocery stores. I worked at Soil and Crop Services part-time beginning my sophomore year in high school throughout college."
Leo's dream to become a mechanical engineer were dashed when he wasn't able to afford the tuition at WSU. However, he had enjoyed prerequisites he'd taken earlier for a social science class. That was the educational path he pursued graduating with a Master's Degree in Social Work a few years later.
Leo began his duties at CBHA by developing the First Steps Program – now called Maternity Support Services. His background in mental health enabled him to provide counseling to pregnant moms who might be depressed or suffering from crisis situations. Leo's responsibilities increased as CBHA worked to provide more services to its patients.
"Sometimes the going was a little rough and I would be reminded to stay focused on our mission to 'provide equal access to quality health care to all persons regardless of sex, color, ethnicity, national origin or the ability to pay.' Now, all these years later, we continue to be guided by this mission. I'm so thankful I have had the opportunity to work with so many needs and to develop programs that help make health care better for families in our communities."
If you want to be a part of the CBHA Experience we are always looking for talented and passionate individuals. Learn more about CBHA and explore current career opportunities.