Pharmacy Intern Returns as Pharmacist
Like many at CBHA, Osmark Jauregui is a home-grown product, having worked his way from the area's orchards and through the pharmacy ranks at CBHA to a pharmacist position in the Othello clinic.
"We are so excited and pleased to officially welcome Osmark Jauregui to our roster of pharmacists," Jessica Smith, CBHA Pharmacy Director said. "Osmark had just graduated from high school when he joined our staff as a pharmacy assistant in 2011. He has worked here ever since – worked while he did his undergraduate studies, worked during holiday breaks from college, worked during summers – anytime he wasn't going to school, he was working."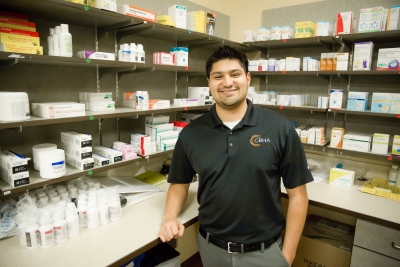 Osmark agrees that it has been a long journey. "I am deeply grateful to all of the pharmacy staff and Greg Brandenburg, former Chief Executive Officer at CBHA, for seeing something of merit in me. They have given me the opportunity to work while I attended school."
Along the way, Osmark passed state boards and became a pharmacy technician which carried more responsibilities than an assistant. In 2015, he was accepted into the inaugural Washington State University School of Pharmacy and Pharmaceuticals extension in Yakima. His determination paid off and, with his proud parents, siblings and friends looking on, he graduated in May, 2019. "I will always be thankful for the amazing support my parents, co-workers and friends provided along the way."
Osmark attended Othello Schools from kindergarten through high school. "I always knew I wanted to do something in medicine," he said. "I liked science and biology and when I had an opportunity to work in a pharmacy, I decided I wanted to become a pharmacist."
Osmark has fond memories of growing up in Othello. "Our family loves going to movies at the Reichert Show House," he recalls. "We also watched movies at home on television – I especially liked Japanese amine and watching Mexican soap operas with my mom. I'd like to travel to Japan sometime and am interested in learning to speak the language." He speaks Spanish and English fluently but admits to knowing only "select phrases in Japanese." Osmark also enjoys jogging and playing soccer.