Stepping Up At The Color Run
I awakened to a cold, rainy, windy day on Saturday, Sept. 28th – the day of our Second Annual Color Run. Even though we had over 400 people preregister for the run, I wondered who would want to come out on such a wet day. I needn't have worried – almost 500 people showed up!
We came up with the idea of a Color Run last year where each color represented a chronic childhood condition. It was and continues to be a fund raising event with the proceeds benefitting families who deal with these issues every day. Our goal this year was to bring our community together to promote healthy activities such as running and raise awareness about childhood obesity and healthy lifestyles.
We also want to continue raising awareness about Spinal Muscular Atrophy (SMA) Awareness Month as well as other chronic childhood conditions. Last year Othello Mayor, Shawn Logan, designated August as SMA Awareness Month. My wife Valerie and I lost our infant son Liam to SMA in 2013. No treatment existed at that time to save his life. Now several drugs are being used to treat it. Recently the FDA approved what is now the most expensive drug in the world – Zolgensma, with a $2.1 million price tag to treat Spinal Muscular Atrophy.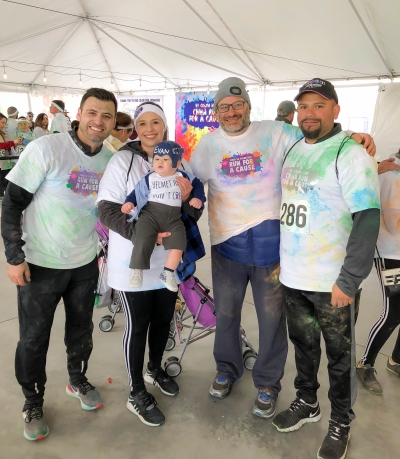 As I fell into step with the hundreds of other runners I noticed among the crowd a baby wearing a helmet being pushed in a stroller. I quickly recognized Evan, infant son of CBHA employee, Vanessa Morelos. Less than a year old, he was born with a condition called craniosynostosis, where the skull is rigid and doesn't allow brain expansion as he grows. Surgery has corrected the condition. Evan will continue to be closely monitored.
I am very grateful to live in a community that comes out on a nasty day to support health and wellness. Progress is made every day as new treatments and drugs are developed that offer hope where none previously existed. It is why we run – thanks for running with us!