Taking Dental Outside the Clinic Walls
A child crying out in the night with a toothache is sometimes the first indication a parent has of a dental problem with their child. CBHA dental providers want to identify oral health issues at the earliest possible time. CBHA Chief Executive Officer Nieves Gomez is a staunch advocate for children's health – especially preventive care. "We want to work within our communities to help facilitate and work with partners like the North Franklin School District and the Othello School District to reach as many children as possible," he said.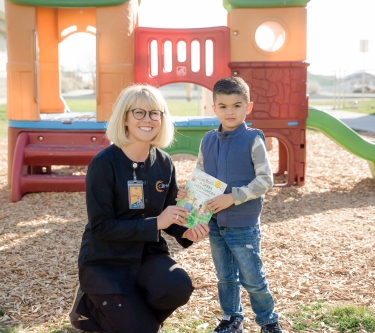 Dental Hygienist, Lauren Spilles, divides her time between CBHA dental clinics in Connell and Othello. She focuses on traditional patient care in the dental offices in Connell. She also spends one day doing outreach care in Othello. "We began a new program in July of this year for children starting shortly after they are born through five years old," she said. "I do dental cleaning and instruction at the "well child" check-ups."
Lauren likes to see the babies shortly after birth; at that point her focus is on education such as cleaning a baby's gums, the importance of NOT allowing babies to go to sleep with a bottle in their mouth and other tips to teach parents how to get their baby on the path to good oral health.
"I also discuss the benefits of breast feeding in regards to proper facial development and tongue function." It's helpful for parents to know what to watch out for as their child grows such as-how to lift the lip and check for white spots on the teeth (possible early indication of a cavity). Even though Lauren's focus is on infants, she also works with parents whose child is at high risk for dental decay.
Outside of the clinic walls, Lauren works with area school districts. CBHA's school based oral health program began with North Franklin and Kalotus School District a few years ago but has been growing to include other schools. The schools inform the parents ahead of time about this program and obtain consent forms before the visit.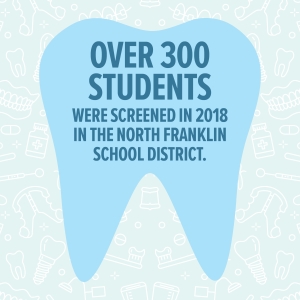 "We try to help out as much as we can with this process to make it the least burdensome for the schools," Lauren said. School staff have been very helpful and supportive of this program. Oral health visits generally occur twice per school year and include education, screening and fluoride varnish with parental consent is also applied at those visits with parental consent."
Lauren said she is very mindful of the time students are taken out of the classroom. While fluoride varnish takes only ten seconds to apply, it is very effective in preventing cavities.
An oral health program was also added to the Othello School District Preschool last spring. "This will be the first full year of the program and we have now integrated our CBHA Eye Care team who accompanied our dental team at the fall visit to the school; we will go back in the spring and take our hearing team with us at that time."
The screening findings are communicated to the caregivers in a letter. Children identified as high risk of having barriers to care receive case management and assistance as needed. The screening letters include any areas of concern.
As part of the screening process CBHA collects data and issues a post-visit report each school year summarizing the data for that year including the total number of children screened, the percentage of children with decay, the number with rampant decay and the number who have been referred due to an area of concern. This data helps us track progress in our efforts to keep CBHA kids cavity free and ready to focus on learning.