Welcome Sarah Segura, Dental Hygienist
Sarah describes herself as an outdoor person. As a demonstration of that commitment, she completed the Badger Mountain Challenge with her sister – an experience she describes as "very challenging!" Sarah also likes to garden and she enjoys going on road trips to beautiful destinations; a trip to Multnomah Falls in Oregon this past summer was "so beautiful."
Sarah graduated from Columbia Basin College with an associate degree in dental hygiene and an associate of science degree. She also is continuing to work online towards a Bachelor of Science in Dental Hygiene.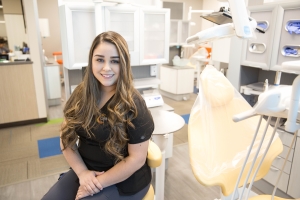 Sarah likes teaching patients how to take care of their teeth. Many people face a language barrier in communicating with dental providers. "These patients touch my heart. I speak Spanish and am very thankful to be able to help them communicate their concerns."
Sarah sees patients in Connell and Othello.
Sarah Segura has begun seeing patients. Call CBHA to make your appointment! 509.488.5256