2018 Medical Provider of the Year - Jaeniffer Kaiser, ARNP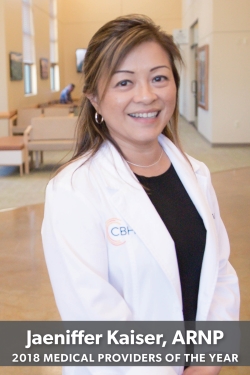 Connell has been home to Jaeniffer Kaiser, ARNP, since her arrival from the Philippines when she was just 16 years old. She finished her senior year at Connell High School and then left to continue her education in medicine.
She completed her Masters of Science at Vanderbilt University and became a family nurse practitioner. She joined her father, Dr. Dionisio Ang, at his clinic in Connell in 1999 and took over his practice when he retired in 2011. She joined the CBHA medical staff when the Ang Clinic became the Connell Clinic in 2011.
Jaeniffer's commitment to provide long term health care to the Connell community is one of the reasons she was chosen as a Provider of the Year. She is an advocate for preventive care and encourages her patients to remain physically active.