Earn While You Learn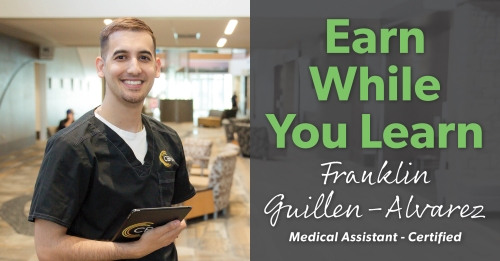 When Franklin Guillen-Alvarez began working at CBHA, he knew he'd found a place that he'd be able to call home. But he soon realized it was also a place that he could challenge himself and grow a career.
As a Medical Receptionist, Franklin enjoyed working with patients, verifying insurance, and managing the flow of checking patients in and out from their appointments. It wasn't long before he felt a desire to pursue a degree in nursing. Franklin soon enrolled at Big Bend Community College, taking classes to help advance his goals.
"It was difficult because I lived in Othello and school was thirty minutes away. I'd come to work, go to school, come home, go to bed, wake up and do it all over again. I needed that MA certification to move up -- but there was no way I could afford to not work and attend school full-time."
While there were days when Franklin was exhausted and wondered how long it might take, he never doubted that he'd complete the Medical Assistant (MA) certification.
"In the back of my mind, I knew I could do it," he recalls. "I just didn't know when it would happen. Once I had that certificate in my hand, I immediately knew that all my hard work had paid off. I could breathe! This is a real career!"
Franklin continues to build on his MA certification, with the goal of one day becoming either a physician assistant or a doctor. As a Certified Medical Scribe Specialist (CMSS) Franklin works with Dr. Bashar Elali's team, prepping patients for appointments and procedures.
"My favorite part of being at CBHA is having the ability to grow. Compared to where I started, I've grown a lot. Being part of something bigger is also rewarding. As an MA, I like how we all work together as a team for the patient – the three MAs and the provider."
Franklin Guillen-Alvarez's advice to his colleagues at CBHA? It's simple: "Don't put your dreams on hold. There's no time like the present – and at CBHA, you're working for a powerful and professional organization who is willing to work with you to become what you want in the organization."