From Delivery Room to Pediatric Care
From the first moments you learn that you're expecting a baby, the decision-making begins. From when to share the news (and with whom), to whether or not to learn the baby's gender, to selecting the baby's name, and deciding whether to have an epidural….there are many decisions to be made.
One of the first and most important decisions you'll make is about prenatal care and the delivery of your baby. Finding the right doctor for care during your pregnancy and to eventually deliver your baby is a big decision. Your doctor plays a key role throughout the pregnancy, so it's important that you consider your options and what best fits you and your family for this experience, and beyond.
Family Physicians with Obstetrics Offer Comprehensive Care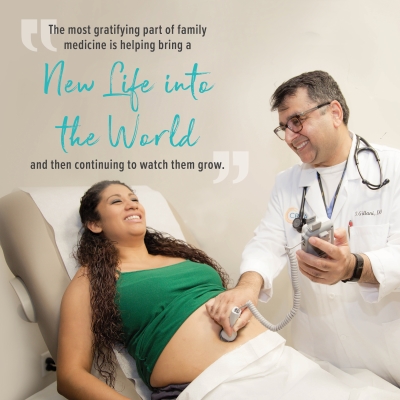 At CBHA, we proudly offer the services of several highly trained and dedicated Family Physicians who provide Obstetric Care. These Family Physicians with Obstetrics (FPOBs) are primary care doctors who deliver babies, but also treat a broad variety of health conditions, from earaches in infants to congestive heart failure in older adults.
In addition to medical school, family physicians usually have three years of intensive training. Some choose to emphasize obstetrics and undergo additional training. All of CBHA's FPOBs are board-certified, highly trained, and well-qualified to medically oversee a pregnancy. They also genuinely enjoy taking good care of both mother and baby.
Many families appreciate that their family physician provides prenatal care and delivery because of the continuity of care. FPOBs are already familiar with your medical history, and have likely treated you before your pregnancy. Importantly, an FPOB can continue to treat both the mother -- and baby -- after the birth.
Dr. Matthew STANTSPAINTER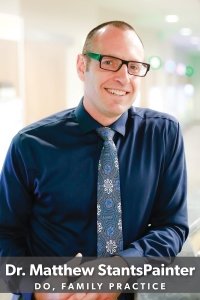 Dr. StantsPainter, DO, estimates that he has delivered several hundred babies since completing his residency over ten years ago. He believes his osteopathic training blends in well with his obstetric practice and has given him the skills to provide safe deliveries for a wide number of patients. "Caring for the whole patient and recognizing the role of a condition like pregnancy in a patient's life is central to the philosophy of osteopathy which is that every function of the body is connected to another."
He has found that caring for the whole family leads to a richer relationship with each family member and the family as a whole. He feels privileged to be present at the significant milestones in their lives, from the delivery of the first child through the later stages in life.
Dr. StantsPainter divides his time between CBHA clinics in Othello and Connell. "It is exciting to me that we are now offering obstetrics in Connell as well as in our other two clinics," Dr. StantsPainter said. "It has been well received by the patients and community."
Dr. Francisco Prada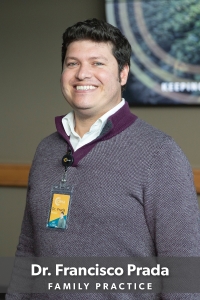 Like his peers, Dr. Prada intentionally chose to be a FPOB, a match for the type of medicine he wanted to practice. "I went into family medicine specifically so that I could use a whole family approach – see mom, dad, the kids, deliver the babies, and provide continuing care for the whole family."
Dr. Prada is fluent in both Spanish and English. Dr. Prada believes that providers gain valuable information when the same physician is involved both before and after the birth. By being involved in pre-natal care, delivery, and ongoing pediatric care and healthy visits for mom, Dr. Prada and other FPOBs eliminate the hand-offs in health information that might otherwise break down between several professionals.
"Instead of separating patient care into silos, in my mind, the stages of pregnancy and aftercare are seen as one, especially from those first few days in the hospital, to when I first see patients in the clinic. From the beginning of the pregnancy to after the birth."
"When a baby is born, I have an advantage when it comes to the care of the child, because I know what the pregnancy was like. This is one of the great advantages of family medicine, and for me, it's also the most gratifying part of family medicine. Bringing a new life into the world, and then continuing to watch them grow."
Originally from Colombia, Dr. Prada's interest in obstetrics started early in his career, when he came to the United States. "Because I had a much greater interest in obstetrics than other residents, I did many more deliveries during my residency. I also completed electives in OB so I could learn more, which enables me to better perform non-complicated obstetrics and managing routine pregnancies."
Being a part of raising healthy, happy families brings a great deal of satisfaction to CBHA's FPOBs. "It's a super exciting time for multiple reasons. And, from a strictly biological point of view, I find it fascinating how these two little cells grow into this human being. You're witnessing a miracle that this being is even coming to life – and, well, it's just amazing. That's why I love it!" says Dr. Prada.
Dr. Syed Gillani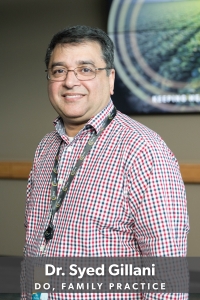 Dr. Gillani, DO, echoes Dr. StantsPainter's sentiments regarding osteopathy. A DO himself, Dr. Gillani's philosophy is a holistic approach that recognizes the amazing power of the human body, which is key to both obstetrics and osteopathy.
"My special interest is osteopathic manipulation in obstetrics. And, I like to tell my patients that I'm a one-stop shop," says Dr. Gillani. "My favorite part of my OB practice is being able to use my osteopathic experience and family medicine, as well as obstetrics, to bring health and happiness to families. I make sure that not only mother and baby are healthy but the entire family as well."
Dr. Gillani completed an obstetrics fellowship in Tacoma, and finds delivering babies to be one of the greatest joys in medicine. In Othello alone over the last few months, he has delivered dozens of babies.
Dr. Gillani says he loves women's health because a woman is an integral part of the family. "She's really a pivotal part that coordinates everything – and healthy women generate a healthier society. So it's important that she needs to be healthy. Educating women how best to care for themselves and their families is to me the beauty of family medicine."
Dr. Alaa Atfeh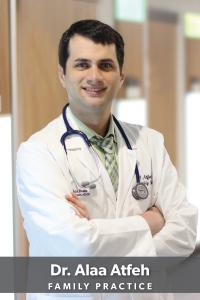 Dr. Alaa Atfeh has been treating patients at CBHA clinics for about five years. One of his goals when he began treating patients at CBHA was to develop lasting relationships as a family physician who also provides obstetrics care. He has achieved this goal; he has gotten to know the families he takes care of and finds a special joy every time he delivers a baby.
Dr. Atfeh welcomed a new baby to his family this past May, and is keenly aware of the role he plays when working with expecting parents. "It's an honor to be present when a new life enters the world. There's nothing quite like it. And, I know from personal experience as a new father that the physicians and staff who are part of that day make a deep and lasting impression on the family. It's a responsibility I don't take lightly."
From Delivery Room to Pediatric Care
CBHA family physicians can care for you throughout your pregnancy and delivery, including caring for your newborn in the hospital. CBHA's FPOBs also work collaboratively with the hospital childbirth team and have access to all the technology and capabilities offered by the hospital.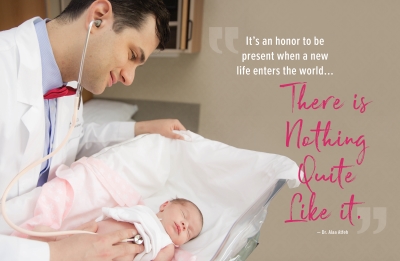 After your baby's birth, the same doctor can continue to care for you, your new baby and other family members, serving as a single care provider for your whole family.
This continuity of care means you'll have a physician who is familiar with your total health picture and knows you and your family as people, not just patients. It also offers the convenience of allowing both you and your baby to be seen together by one physician for post-natal and newborn care.