This is Not just Another Run...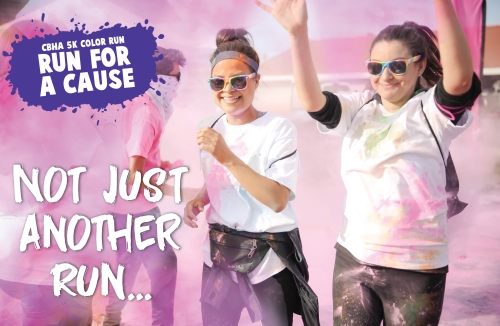 After the success of our first color run last year, we are organizing and hosting the 2nd Annual 5K Color Run: CBHA Run for a Cause on September 28th!
"Our first annual 'Run for a Cause' Color Run was such a success, and people had so much fun, why would we do it just once?" recalls Color Run Coordinator Courtney Stein. "That's the question we at CBHA asked ourselves, and the answer was, 'We shouldn't do it just once! Let's make it an annual event!'"
CBHA CEO Nieves Gomez agrees, "This type of event is exactly what CBHA is all about: bringing our community together — and promoting health, wellness, and awareness."
Beyond seeing 550 of our friends, neighbors and co-workers celebrating together at this event, staff and participants say the most rewarding part of the Run for a Cause event in 2018 was that so many families in the community benefited from the proceeds. Six children with special needs were provided with resources that would make a difference in their lives. These seeds are expected to grow, making a difference for both the children who received them and the families and teachers who support them.
"The Color Run did something we weren't anticipating: it helped us better see the impact that CBHA can have on the community," says Courtney. "With several hundred participants, this larger scale event made a powerful impression. People knew about it. People came out for it. And they had a great time! The community participation and excitement in itself is a reason to do it again – but the fact that vulnerable members of our community also benefited from the event makes it an easy decision."
This year, the event raises awareness about the essential factors that contribute to Childhood Wellness, while activating our community in a celebration of physical health and wellbeing.
"Childhood Wellness in general is our focus, because we want to reach a broad spectrum of people, and because our youth really are our future. There's also a lot of misinformation out there about the most important aspects of children's health, and we hope to address some of those myths," says Courtney.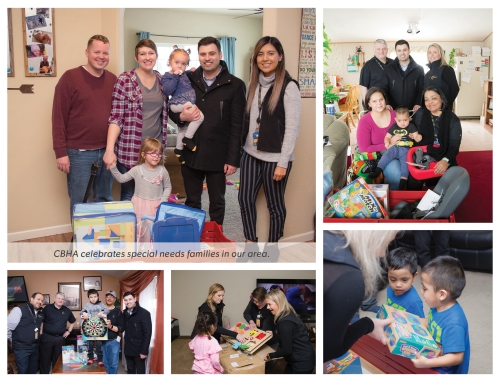 Like the topic itself, a holistic experience is the goal of the Childhood Wellness cause. A variety of learning events are planned, with opportunities for visual, auditory, and hands-on learners. A tent dedicated to wellness information will include topics like childhood vaccinations, Well Child visits, healthy food choices, screen time limits, physical activity recommendations, minimum sleep requirements for children and teens, building healthy relationships, behavioral health care, healthy dental habits, and fostering resilience.
In addition to the 5K Run, participants will enjoy a variety of food vendors, post-race events and games, a photo booth, goodie bags, and many educational opportunities. "They can even take a fun walk with our Wellness Pack, which includes walking stations and instructions how to use them – all incorporated into the walking path. It's designed to show that physical activity can be lots of fun," says Courtney.
Registration pricing for the Color Run has been updated! Kids ages 0 - 12 are free while those 13 - 18 only have to pay $7! Adults 18 and older pay a low price of $15 with everyone receiving a goody bag and t-shirt. Remember to register online before Friday, September 20th to receive these great prices!
"We're here to promote a healthy and aware community - to promote overall health and wellness, and this event does that in a healthy and fun, engaging way," says Courtney.
As most of us know, mental health and physical health go hand-in-hand. Neither takes place in a vacuum. It's hard to have one without the other. CBHA's Dr. Syed Gillani explains, "Our physical and mental health are intimately connected. Just as chronic pain over time can lead to clinical depression, which we see happen frequently, emotional stress can lead to physical pain. It's not in the patient's head."
For this reason, behavioral health providers will be available at the Color Run event, to talk with families about diagnosing and dealing with mental health issues and developmental delays – as well as the impact developmental delays or behavioral issues can have on a family system. Families can also find information about responding to behavioral challenges, helping all children learn to manage stress and conflict.
Courtney emphasizes that they're always looking for volunteers. There are many ways people can help, from helping with directing parking on the day of the event to throwing paint, working at the registration table, helping with lawn games and activities, working the photo booth, or serving refreshments – a lot of hands are needed. "But it's fun!" says Courtney, "and many hands make light work, right?"
If you're interested in volunteering for the Color Run event or sponsoring any part of the festivities, please contact Courtney Stein at CBHA: 509-488-5256 or CourtneyO@CBHA.org. Please visit CBHARunForACause.com for more information about this important cause, to register and learn where the money goes.