Total Success for Ruben Padilla, High School Graduate
Ruben Alatorre-Padilla was tired of feeling sluggish and fatigued all the time.
The Royal City High School senior often struggled to get through the day, his energy and motivation at an all-time low. He wasn't able to play sports like he used to and that was frustrating. Despite being so fatigued, Ruben also wasn't sleeping well. He woke up frequently during the night and seldom started the day feeling rested.
He knew he was too young to feel this way and he wondered if losing weight might help.
"I wanted to start a diet, but I wasn't sure the best way to go about it. So I made an appointment with CBHA," Ruben recalls.
After Ruben had a complete physical to rule out any other health condition that could be contributing to his fatigue and lack of energy, he was given the green light to proceed with a weight loss plan. "I just knew that I wanted to get to my 'right weight' as fast as I could. I was told about two plans, OPTIFAST® and TotalYou Focus. My family and I decided that the OPTIFAST® plan would be the best one for me."
A New Beginning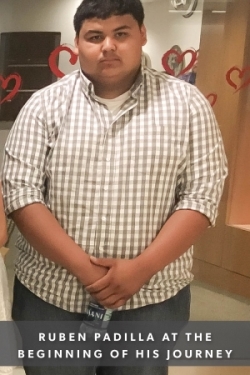 Ruben began the OPTIFAST® program in October 2018. He met with CBHA registered dietician Karlee Kerr, and was monitored by Dr. Elali. "What makes Ruben special is his focused determination to be healthy," says Karlee. "He's come to every appointment engaged and eager to make changes in his life. It's inspiring."
Not expecting this to be easy, Ruben came to TotalYou with aggressive personal goals. "I expected that I'd be hungry when I first started the plan, but I really wasn't. I began eating six small meals a day, and felt pretty good. I had a few food cravings, but they didn't last long," says Ruben. "I told myself that the cravings were all in my head, and that I needed to push through and stay on the program."
Ruben's powerful self-talk worked. After his first week on the TotalYou OPTIFAST® program, Ruben had lost eight pounds. The immediate success motivated him to keep going.
Setback? Or Added Motivation?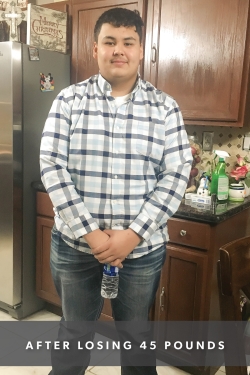 In November, just a few weeks after beginning OPTIFAST®, Ruben was diagnosed with Type 2 Diabetes, a disease often correlated with excess weight. Rather than discouraging him, the diagnosis made Ruben even more determined to stick to the plan and meet his goals.
"Dr. Elali told me that if I reduced my weight, there was a good chance the diabetes would go away. So I thought, well, I got myself into this, but at least I can get myself out of it. And I kept losing."
Ruben lost 25 pounds in his first month.
His clothes were fitting loosely. People around him were beginning to notice the loss. "The best part was that I kept feeling better with each week of loss, and seeing the numbers on the scale keep falling just made me want to keep going."
By January, Ruben had lost more than 80 pounds. Better still, the diabetes went away — Dr. Elali was right! Ruben says, "I don't have diabetes anymore, and it's really all because of the weight I lost. That's probably the best part. That, and I added to my lifetime by getting to a healthier weight. So it was totally worth it."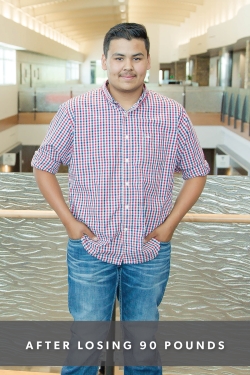 Hello, Health
Being as healthy as he can be is especially important to Ruben because he knows his family needs him to help do the things his dad used to do. While receiving treatment for cancer, his dad is less able to work around the home and take care of things. Ruben wants to be strong and healthy for his family, especially his dad.
"I feel better, stronger, and I have more energy to do the things I need to do for my family. I'm very glad I tried the TotalYou program," Ruben says.