Provider Spotlight - Dr. Catherine Dinglasan
Catherine Dinglasan, MD is approaching her 14th year of working at CBHA as a medical provider. During those years she has divided her time between Othello Clinic and Wahluke Medical Clinic in Mattawa. "I've had the same schedule, week after week, rain or shine" she said. "I've come to know the people and my patients very well and I love it here!" Dr. Dinglasan is a family practice physician which means just that – she takes care of the whole family. She has always served obstetric patients, delivered babies, taken care of those babies as they grew up, and cared for the whole family.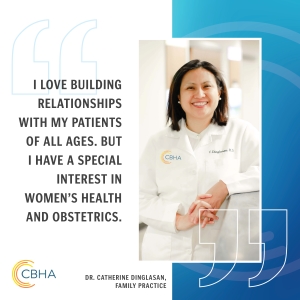 As her obstetric practice grew she saw the need to perform caesarean section surgery. She was granted a sabbatical leave to enroll in a six-month intensive obstetric fellowship program at Providence Sacred Heart Medical Center in Spokane where she became certified to deliver babies via caesarean section. As a physician, Dr. Dinglasan has felt very well supported by CBHA in regards to continuing medical education. She has always appreciated having state-of-the-art facilities to work in. "We are all settled into the new Othello Clinic and that is also working out very well".
When not working, Dr. Dinglasan enjoys movies and eating out- Japanese food is her favorite. She enjoys visits from her family and also likes to travel. She is an avid reader of books, both fiction and nonfiction, as well as professional reading such as medical journals. She loves music and attends local musical productions; she also goes to professional plays, musicals and concerts nationally.