Welcome Dr. Mengyi (Zed) Zha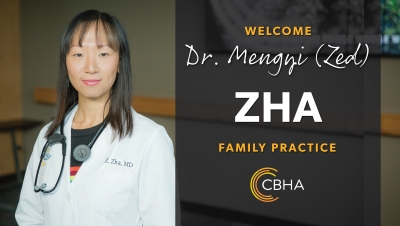 CBHA is pleased to announce Dr. Mengyi (Zed) Zha, joining us this fall. Dr. Zha comes to Othello from the Mayo Clinic in Wisconsin, where she recently completed her medical residency.
Dr. Zha's passion for delivering high quality care has brought her a long way from home. Born and raised in Beijing, China, Dr. Zha moved to the United States to repeat her undergraduate work at the University of Nebraska before attending Dartmouth's School of Medicine in New Hampshire.
Having lived on the East Coast as well as the Midwest, Dr. Zha is excited to explore the West Coast of the country now. "I love Washington State," Dr. Zha exclaims. "I think it's just amazing that in one state you can be in the forest, or on the plains, or drive a few hours to see the ocean. It's really the perfect state for me."
Expecting that her parents will one day join her in the U.S., Dr. Zha had others to consider in her choice of location.
"When my parents have visited me every couple of years, I'd take them on trips around US, and they liked the Pacific Northwest quite a lot. It was important for me to live somewhere that they'd like, because they're going to live with me some day, and I want to make sure they're happy where they are."
Dr. Zha looks forward to practicing medicine in CBHA's community health center practice, continuing her work to provide quality care to all who are willing to ask for it. As a college student, Dr. Zha's passion for caring for the medically underserved led to her involvement in organizing and working in a free clinic during these earlier college years. "I'm a mission- oriented person and very mindful of social justice issues, so this is the perfect combination of what I want to do professionally."
She adds, "As a first generation immigrant, I have an understanding of what it's like to be so far away from home, or feeling you have no one to rely on. I really want people to feel they can rely on me."
Her enthusiasm for CBHA and our communities grew last summer, as she worked with CBHA leaders to better understand the operational side of running and managing a community health center. "I really enjoyed my week of job shadowing at CBHA, and especially learning how the clinic functions, how it's funded – things they don't teach you in medical school."
Dr. Zha is also excited about getting to know the community better, and meeting new patients. "I thought I'd be drawn to the excitement of medical care, but I think I enjoy the relationships with the patients more – especially delivering babies. It's one of the miracles I get to witness and be part of."
A life-long learner, Dr. Zha also looks forward to adding Spanish to her language fluency, with a goal of developing fluency in this third language to better serve our patients.
In her free time, Dr. Zha enjoys hiking, camping, and running. She's completed nine half-marathons, and will be running another in November in California, with Dr. Atfeh and Dr. Elali. She also enjoys cooking and practicing traditional Chinese Calligraphy, using traditional brushes and ink.
Dr. Zha will begin seeing patients in November.
Please join the CBHA staff in welcoming Dr. Zha to our dedicated team of physicians!