Welcome Dr. Steven Pitcher, Dentist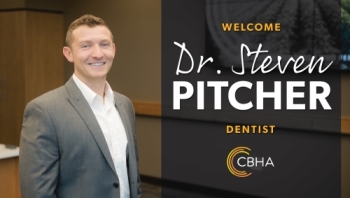 Columbia Basin Health Association (CBHA) is excited to welcome Dr. Steven Pitcher to its team of dental professionals. Dr. Pitcher graduated with a Doctor of Dental Surgery from Marquette University Dental School in Milwaukee, Wisconsin. He earned his Bachelor of Science in Microbiology from Weber State University in Ogden, Utah. After eight years of school, Dr. Pitcher is eager to put his knowledge to work.
Having spent two years in Paraguay and earning a minor in Spanish, Dr. Pitcher is fluent in Spanish and looks forward to using his Spanish working with CBHA patients.
Dr. Pitcher was inspired to pursue dentistry after experiencing a life-changing transformation of his own mouth. "I had a really 'messed up' smile and bite as a kid, but three years of dentistry changed my mouth and ultimately my life. I want to help others have similar experiences."
Family friends and church leaders also played a role in Dr. Pitcher's desire to study dentistry. "They were all good guys and seemed to have a good work- life balance, while being respected in the community. They were great mentors to me. And the extra school didn't bother me too much."
One of Dr. Pitcher's dental school classmates, Dr. Jimenez, who's from the Othello area, told Dr. Pitcher of the opportunities at CBHA, thinking it might be a good fit for him because he was fluent in Spanish and enjoyed the Hispanic culture.
Dr. Pitcher and his wife, Tori, are already setting in the Othello community, building a house, and enjoying all the area has to offer. "We wanted to move back out west, and I loved the idea that the community was mainly Spanish speaking – because I speak Spanish. I went on a church mission right after high school, and I fell in love with the Hispanic community. It is an underserved population, but CBHA just smacks the ball out of the park in getting quality services to this group of people. I wanted to be part of that." Dr. Pitcher also looks forward to less traffic, living in a community where everyone knows each other, and a little slower pace of life.
In his free time, Dr. Pitcher enjoys both watching and playing sports, working out, and trying new restaurants with his wife.
Dr. Pitcher says, "I am excited to work with the staff and to get to know the patients. I'm an open book, open to any question, and I look forward to being an oral health resource. Every time I see a patient, I want the patient to have the best experience possible with me. It's my least favorite thing to see a patient in pain, so I like to see the transition of pain to health."
Dr. Pitcher is now seeing patients at the Othello Clinic, and will spend time at other CBHA locations as well.