Firestarter Spotlight - Yvonne Martinez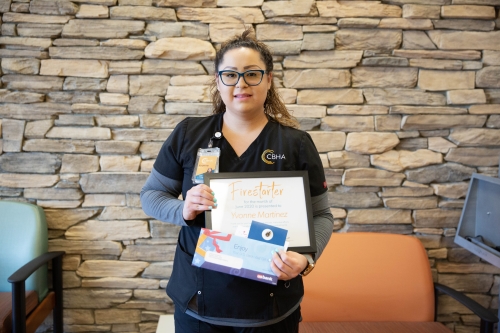 Congratulations to Yvonne Martinez for winning the Firestarter Award!
Yvonne is a MA-C at our Wahluke Clinic. She was chosen as a Firestarter for her professionality, organization skills, and respect towards others. She demonstrates teamwork by being a high performer at Wahluke Clinic. She is constantly recognized by her co-workers for all the help that she offers.
She is also very responsible and organizes herself in an efficient manner that ensures all policies and procedures are being met. Yvonne is extremely positive, always showing appreciation towards her patients, co-workers and supervisors.
Yvonne brings high energy and positive outcomes in her daily work. She is always interested in learning and growing in her position. She also is always willing to volunteer and help in any capacity that is needed.
When did you start at CBHA?
I started working at CBHA on December 16th, 2017.
What is your title and job duties?
I am a Medical Assistant Certified. Some of my responsibilities as an MA-C are all related to patient care including rooming, taking vital signs, giving vaccines, injections and taking blood draws.
What do you like best about working for CBHA?
One of the many things that I like about CBHA is the work environment. Everyone works as a team here, helping each other whenever it is needed.
How has CBHA helped you in your career development?
In the 2 and a half years that I have been here, I have gained both clinical and administrative experience. This has helped me grow into being a better medical assistant for our patients.
What has been your favorite project at work so far?
My favorite projects here have been the outreach events that CBHA puts on for the community. I enjoy seeing our patients and meeting new faces from the communities we serve.
What motivates you to wake up and go to work?
My motivation comes from patients. Every morning that I wake up, I have the opportunity to make an impact in someone's life, and do it in a positive way.
Tell us something about yourself that would surprise us.
Surprisingly, I don't like to drink coffee. I don't like coffee in general.
What would you do (for a career) if you weren't doing this?
I would be a Computer Engineer.
Favorite travel spot?
My favorite place to travel to is Jalisco, Mexico.
When you have 30 minutes of free-time outside of work, how do you pass the time?
When I am not here at work, I love to spend time with my husband and my daughter.
Anyone you would like to thank or final words?
I would like to thank all of my nursing family at Wahluke Clinic, especially Miguel Blas-Matus, Nanci and Cynthia for always supporting and helping me.