CBHA Receives HRSA Certification of Compliance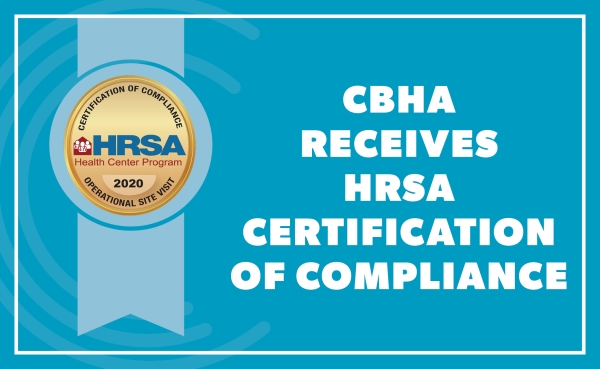 CBHA is honored to have received a Certification of Compliance from the Health Resources and Services Administration (HRSA)!
We take pride in the recognition of our achievements in quality and compliance ratings. We are pleased to receive the highest rating for our recent HRSA Operational Site Visit (OSV). Because of partnerships like the one with the Bureau of Primary Health Care, we can deliver nationally recognized quality and operational excellence to our patients.
HRSA conducts operational site visits to assess and verify a health center's compliance with the Health Center Program requirements. After completing the Operational Site Visit Report, we received a perfect score for our Certification of Compliance, which a low percentage of health centers receive.
"I would like to extend our gratitude to James Macrae, Associate Administrator, and the Health Resources and Services Administration for all the work you do to keep health centers operating and providing patient-centered care to the most vulnerable populations," says Nieves Gomez, CEO. "I also want to thank our staff for everything they do to provide quality care for our communities."