Uptick in Confirmed Cases of Flu in Connell
Fever? Body aches? Congestion? Fatigue? It could be influenza, commonly known as the flu.
Fall and winter are common times for the flu to hit, and this year is no different. Both influenza A and influenza B have been making their way through central Washington, and people of all ages have been affected.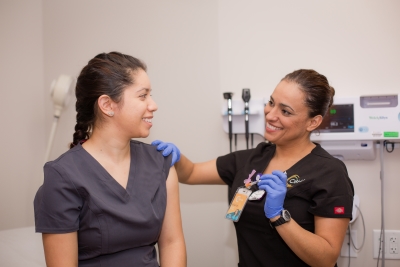 According to Jesstine Kane, PA-C at Columbia Basin Health Association (CBHA), "We've definitely been seeing an uptick in Flu A the past couple of weeks, and that's different from what we saw in November and December, which was mostly Influenza B – when more than half of our patients each day were testing positive for the flu."
Flu vaccine is still the most reliable prevention.
The flu vaccine is effective for the most part this year, but some people who've been vaccinated may still get the virus. Kane says that patients who've had the flu vaccine and still get the flu tend to have milder symptoms – lower fever, milder respiratory issues, generally less severe version of the flu.
But more of those who are testing positive for the flu have not had the vaccine. Kane adds, "I want people to know that they can definitely still come get their flu vaccine. It's not too late. And it makes a difference."
Symptoms? Get tested.
For those who have flu symptoms, especially fever, Kane recommends being tested, "The earlier the patient is tested for the flu, the better, because the antivirals are only indicated the first three days of symptoms." After the first three days, flu medications that reduce the severity and duration of the illness are not nearly as effective.
Without the medication, symptoms commonly last a week to ten days, sometimes longer. While recovering from the flu, a person should get plenty of fluids, extra rest, and take ibuprofen or acetaminophen for pain from fever, headache, or body aches.
Prevent spreading the flu.
Of course, there are ways to reduce spreading the flu. Kane says, "People with the flu – either A or B, because both are highly contagious – should stay home whenever possible, especially during the first few days of the illness, wear a mask in public, wash hands often, and stay away from those who are especially vulnerable to the flu – children under a year old and the elderly." She adds, "And definitely stay home from school or work when you have a fever. Wait at least 24 hours after the fever has ended before resuming regular work or school routines."

The Centers for Disease Control report that people are most contagious in the first 3-4 days of becoming ill, and may pass on the virus before they even feel symptoms. Once symptoms develop, the person continues to be contagious for several days, including while fever is present.
For people who are generally health, the flu is seldom dangerous. Complications can result when certain groups of people get the flu, and these people should seek medical attention as soon as they suspect they have symptoms:
Women who are pregnant
People with chronic medical conditions (like asthma, heart conditions, or cancer)
Children younger than 5
Adults over age 65
Staying healthy this winter
To increase the chances of staying healthy and avoiding the flu this season, it's more important than ever to take care of our bodies with a balanced diet and exercise. "Exercise strengthens the immune system, and improves cardio vascular health so that if you do get sick, it's not as big of a deal. Your body can handle it better," says Kane.
People who have experienced a high degree of toxic stress and trauma are especially susceptible to illness. So self-care is especially important. What does that look like? Getting sleep (at least eight hours per night), eating healthy food, and staying up to date with vaccines, annual check-ups, and well-child visits.
It's not too late to get the flu shot!
Kane encourages anyone who hasn't had a flu shot to get one. "If you are already a patient at CBHA, you don't even have to make an appointment. Just come in and we get you in. If you're not a patient, you can call and make an appointment for the shot, and we will be happy to see you," she says. Jesstine Kane now sees patients five days a week (Monday through Friday) in her family medicine practice at Connell Clinic.