Welcome Manuel Jimenez, DDS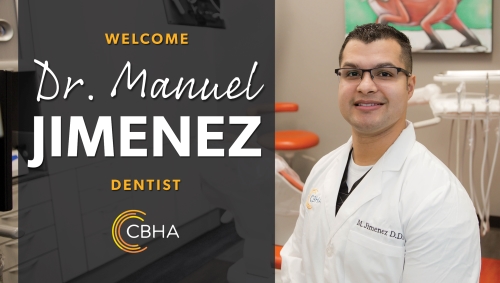 CBHA welcomes Dr. Jimenez to its dedicated team of dental providers. Manuel Jimenez is returning to his roots, having been born in Othello, and raised in the Tri-Cities. After graduating from Pasco High School, he received a Bachelor's of Science in Biology degree with minors in biochemistry and chemistry from Eastern Washington University. Dr. Jimenez worked as a substitute teacher for three years before pursuing a long-held dream.
Inspired and encouraged by his childhood dentist, Dr. Jimenez followed his education at EWU with dental school. He received his Doctor of Dental Surgery degree from Marquette University School of Dentistry in May 2019.
As a lifelong Packers fan, Dr. Jimenez enjoyed his time in Wisconsin, and made it to three Lambeau Field games, but he and his family are happy to return to Othello, rejoin extended family, and give back to the community in which his wife grew up.
When asked how he's most eager to use his training, Dr. Jimenez has a long list of skills he's honed and particularly enjoys, "Oral surgery, bone-grafting, removal of wisdom teeth, sutures, implants – I enjoy all of it! I also really like working with children."
Dr. Jimenez and his wife, Clarissa, who works for CBHA as a dental hygienist, have two young children, Caiden and Mila. They're all happily acclimating to being home.
"It is a blessing to be able to provide oral health care in the community where I was born. I want to make a positive difference by providing exceptional, complete dental care to those in the community and working with patients to achieve a state of optimal oral health. I really look forward to working in this community and being able to provide this care."