Employee of the Year: Jose Rincon, Patient Service Representative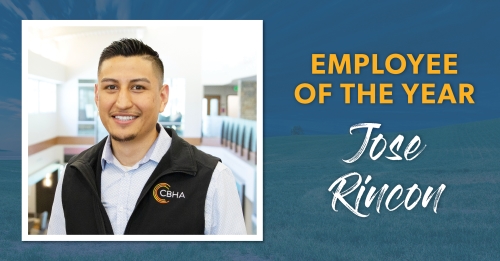 We would like to congratulate Jose Rincon, Patient Service Representative, on receiving the 2019 Employee of the Year award!
We gave out five awards this year at our 2019 Virtual All Staff event and Jose received this award for his honesty, integrity, dependability and positive attitude.
Jose Rincon grew up in Mattawa, Washington. Back in 2016 he was presented with the opportunity to work at CBHA. He was hesitant to apply, but eventually mustered up the courage to do so. His first position here was working in Patient Benefits, second year moved to Medical registration, and third year was able to complete our Patient Services Representative Certification.
This year's awards were awarded through a virtual video. Everyone was telling me congratulations, and I was in the middle of watching the video," says Jose, "I was getting messages pop up on my screen, congratulating me… I just wanted to get to the end of the video already to see what happens." Throughout the staff video, different employees were winning awards through a drawing, and the "Of the Year" awards were one of the last topics to be announced. "I am very honored to have received this award."
Jose never misses out on an opportunity to help someone. The night cleaning crew needed some extra hands and Jose's name was mentioned as someone that could possibly help them out. "I helped clean in the Dental Area, Administration, Medical Suites and Family Services," says Jose, "If they ever need an extra pair of hands again, they can count on me." Jose is present at every event that CBHA puts on for the community, and he is ready to serve in any way that he can.
"Treat others the way that you want to be treated" is a life motto Jose lives by. When he was growing up he saw his parents go through challenges in their work life, like having to submit L&I claims. "I get the opportunity to be a guidance for the people that we serve. For example, whenever I get an L&I case I help our patient as if I was helping my own dad, then hopefully down the line someone will help my parents in that same way."
His inspiration is driven by God, his parents Amado and Norma, his wife Tabitha, and son Skyler. He plans to further his education in the future. He says he wants to have access to more knowledge, so that in the future he can help his coworkers further in their knowledge. "I am here for them if they need me," says Jose.
Jose Rincon is the definition of what our service at CBHA looks like. He goes beyond the extra mile to ensure that our patients are in good hands and are being taken care of. He guarantees that our patients will leave our building with their questions answered. We are so grateful to have Jose as part of our team and as our Employee of the Year!