Provider Of The Year: Dr. Sonia Idrogo, DMD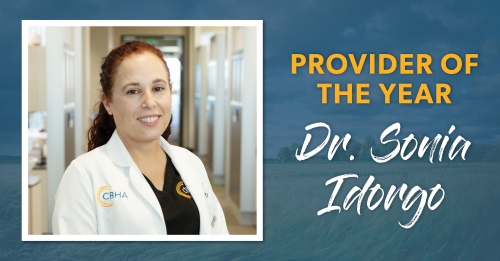 We would like to congratulate Dr. Sonia Idrogo, DMD, in receiving the 2019 Provider of the Year award!
We gave out five awards this year at our 2019 Virtual All Staff event and Dr. Idrogo received this award for her leadership, problem-solving techniques, and providing excellent patient satisfaction.
Dr. Idrogo grew up in Lima, Peru. She attended Cayetano Heredia Peruvian University and completed her dental residency in Advanced Education in General Dentistry. She likes to do things with her hands, like make art projects and she likes to interact and help people. Those are some of the reasons she chose to be a Dentist: "Dentistry is personally fulfilling. I like to serve our community and helping the present and future oral health needs of our patients makes me very happy".
This year's awards were announced through a video to staff. Dr. Idrogo was busy with patients that morning and hadn't had time to watch the video, yet. "Everyone kept coming up to me saying, 'Congratulations' and I was like 'why, what did I do?' and then they told me that I won the provider of the year," says Dr. Idrogo, "when I watched the video and saw my name come up I was very happy, very excited!"
Dr. Idrogo has been with CBHA for the past 10 years. She loves the environment that CBHA creates along with all of her patients. "I love my patients, they are very grateful. I love that I can do what I love here, being a dentist, and at the same time give back to the community," says Dr. Idrogo. She also enjoys working with her colleagues every day and the overall environment that CBHA provides for its employees.
Her first year here at CBHA, she was asked by the Dental Director to organize a potluck for their department. The Dental Director called her the "Party Queen" at one of their dental meetings, and since then it stuck "I love getting to spend more time with my coworkers and getting to know them better." To this day they still call her the "Party Queen" even if it is just to get her attention.
"Every year, I try to be better than the year before. I want to give the best care to my patients and be the best me whenever I am around them." She grabs inspiration from her parents to always work hard and be the greatest in everything she does.
She often gives advice to student residents that she works with, and this is what she leaves them with, "Just be honest. Be honest with yourself, be honest with our patients and always give the best you that you can."