Provider of the Year: Nathan Spinelli, Pharmacist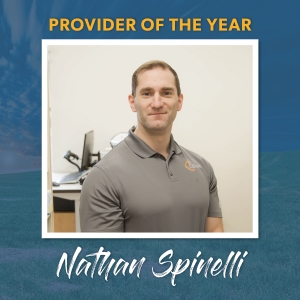 We would like to congratulate Nathan Spinelli in receiving the 2019 Provider of the Year award! We gave out five awards this year at our 2019 Virtual All Staff event and Nathan received this award for his leadership, innovative ideas and excellent patient care.
Nathan grew up in Spokane, Washington and has been a "Washingtonian" for the majority of his life. After High school, he moved to Spain for two years for a mission he was on, and when he returned he attended Washington State University to receive his Degree in Pharmacy.
10 years ago, Nathan started his first "big job" as a Staff Pharmacist with CBHA. A year into his job, he began working with pharmacy students, training them to learn the ropes of the job, and continues to work with students to this day. In 2012, he became chair of the Pharmacy and Therapeutics committee and later in 2016, he was promoted to Assistant Pharmacy Director.
This year's awards were awarded through a virtual video. "Everyone in pharmacy was watching the video, and I was counseling a patient," says Nathan, "All the cheers started erupting, and I kept saying 'shh..', I couldn't hear my patient and my patient couldn't hear me. After I was done, someone came up to me and said, 'You got provider of the year' and I just stood there like, Oh!" Nathan was very surprised and honored to receive this award.
Nathan enjoys being able to work with providers in a team oriented role, and loves his pharmacy staff. One of the things he likes about CBHA are the potlucks that pharmacy throws throughout the year, for special events. "Last Christmas Eve, I brought a brisket, and we just had a blast. It was a lot of fun!" Nathan also loves Othello's tight-knit community. He knows that if his family ever needs anything, there will always be someone to lend out a helping hand.
Nathans wife has played a big role in his life and inspires him to be better. "I see all the positive attributes that she has, and most of those are things that I am lacking or need to be better in," says Nathan, "I'm always seeing things in myself where I can say, 'Okay how can I be better in that'."
To earn the provider of the year award, one of the qualities the applicant has to show is innovation and bring new ideas to improve CBHA for patients and staff. Nathan has been working on a pharmacy refill protocol for the past year and hopes to continue growing the project. He is also working on some ideas that could make the CBHA experience even better for patients. "If there was any advice to give, I would say to just rock your job!"