Supervisor of the Year: Joshua Bunch, CFO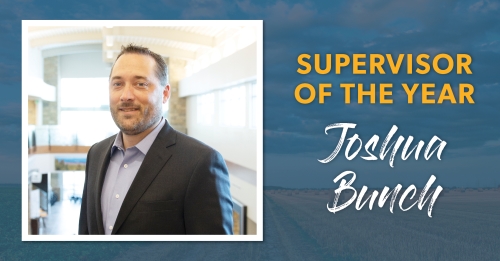 We would like to congratulate Joshua Bunch, CPA, CHFP in receiving the 2019 Supervisor of the Year award!
We gave out five awards this year at our 2019 Virtual All Staff event. Josh is our Chief Financial Officer and responsible for managing the fiscal affairs of CBHA. He received this award for his ability to improve processes, develop talent and manage financial resources.
Josh grew up in Moses Lake, WA and spent the majority of his life in the Eastern part of Washington. He attended Central Washington University and received a degree in Accounting. He lived on the West side for a while, but a few years later, his path lead him to come back to Moses Lake and work for CBHA. "Coming to CBHA and having been here for 3 years, I have enjoyed the people, and that makes it easy and fun to come to work."
This year's awards were presented through a video that each employee was able to watch on their own time. "I found out through a message," says Josh. The message said, "Congratulations on winning the Supervisor of the Year award." He did not expect this, but he is grateful for being selected for the award.
Josh has been with CBHA for the past three years. He started as the Director of Finance in March of 2017 and was promoted last December to Chief Financial Officer. "The work we do is extraordinarily important; I just like the challenge and the people I work with," says Josh, "Everyone here is so dedicated to what they do, and dedicated to doing it well, that it makes me want to perform better as well."
Last summer, we held a Summer All Staff Event. At this event, there was a dunk tank where employees had the opportunity to dunk an executive team member. "It was a lot of fun to spend time with co-workers. I think I got dunked twice, and wasn't able to throw straight enough to dunk anybody else," says Josh.
In the upcoming year, Josh plans to work forward in finalizing his Certified Medical Practice Executive credential certification and accomplish the goals he has set for himself. When he is not managing the financial program at CBHA, he looks forward to watching his kids make their own goals on the soccer field.
CBHA is made up of three hundred plus employees, but it still feels like a tight-knit company. Josh believes that opportunity is everywhere, including the small community that we are a part of. "It still feels like a close family-type of company here at CBHA, and there is just as much opportunity here, if you are willing to take it."