Firestarter Spotlight - Maria Vela
Congratulations to Maria Vela on receiving Firestarter!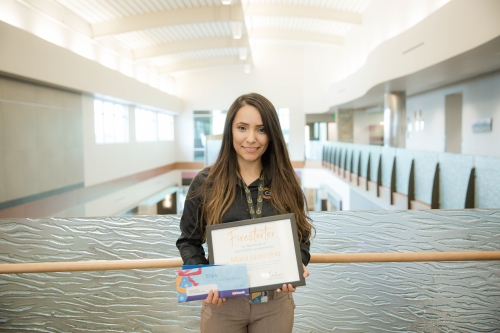 Maria Vela was chosen as a Firestarter for her hard work, respect towards others and going out of her way to exceed patient expectations. Maria works in pharmacy as a pharmacy technician. "I have seen her do things, that aren't in her job description, just to help a patient out and make sure that they are taking their medications", said her nominator, Maria Alatorre.
"Although she has many other tasks throughout her day, Maria was the one that started doing pill boxes for the elderly patients that need help with taking their medications every day." Maria Alatorre also talks about her work etiquette. "She always has a positive attitude and treats everyone with respect when they ask her for help."
Maria goes out of her way to help patients, no matter how difficult the situation may be. If a mistake is made, she takes full responsibility on fixing it and makes changes so that it won't happen again to her or anyone else in the pharmacy. "She is amazing to work with and never complains about her job."
Get to know more about Maria Vela:
When did you start at CBHA?
I started at CBHA on March 22, 2010
What is your title and job duties?
My duties as a pharmacy technician consist of entering the prescription data received from providers and calculate the dose, day supply and adjudicate through insurance. We also count and label the medication. I help patients synchronize their medications and if necessary, we also prepare their pill boxes for the month. I also order medication for the pharmacy, and most of the medications for nurses, eye care and dental. At the end of the month, I make sure to remove expired medications and prepare them to get sent back for destruction.
What do you like best about working for CBHA?
I love working for a respectable organization whose focus is on equal, high quality care for our community.
How has CBHA helped you in your career development?
I started worked in the call center for about one year but I wanted face to face contact with our patients and when I saw an opening for pharmacy assistant I decided to transfer departments. After working as a pharmacy assistant for three months I was offered the opportunity to go into the technician training program. In July of 2012 I passed my test and I was nationally certified as a pharmacy technician.
What has been your favorite project at work so far?
"Simplify My meds" can be a challenge because most patients are not compliant with their daily medication regiment. Once we synchronize all their medications then they only have to come once a month to the pharmacy and pick up all their medications, instead of several times a month; it is very gratifying! This program has helped the majority of our patients on the program be more compliant..
What motivates you to wake up and go to work?
I love what I do and my co-workers. I guess I don't need much motivation because I look forward to work every day.
Tell us something about yourself that would surprise us.
CBHA used to have a competition called "Funky socks" which was about who had the craziest socks. It was only done three years and I happened to win all three times.
What would you do (for a career) if you weren't doing this?
If I was not doing this, I would be an elementary teacher or a nurse.
Favorite travel spot?
I traveled to Honolulu, Hawaii for my honeymoon, many moons ago. I would like to go back and explore the other islands.
When you have 30 minutes of free-time outside of work, how do you pass the time?
Free time, what is that? With four children, my day after work consists of dinner, cleaning, cooking and some days I can squeeze a little walk with my kiddos.
Anyone you would like to thank or final words?
I would like to thank my co-workers for making my day every day. It is great to work with people who look out for each other and have great teamwork.