Firestarter Spotlight - Samantha Garza
Congratulations to Samantha Garza on receiving Firestarter!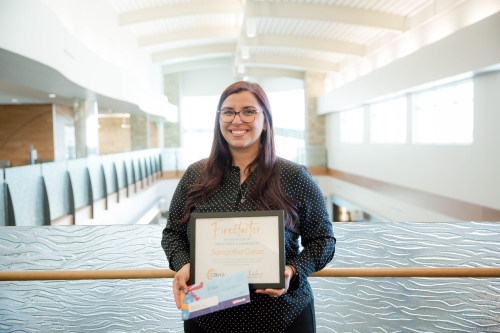 Samantha Garza was nominated for Firestarter because she is someone that knows what needs to be done and gets it done. She is all about helping her co-workers and can be relied on. "Samantha is all about respect and does her duties with a smile on her face," says Nominator Della Rodriguez.
Get to know more about Samantha Garza:
When did you start at CBHA?
I started at CBHA on June 19th, 2017.
What is your title and job duties?
I am an Administrative Assistant. My duties include doing the daily mail, placing CBHA Store Orders, working with Administration on varies projects and so much more! I'm your go-to girl :)
What do you like best about working for CBHA?
I like the people. It's great working with people you can always get along with. I mean, we do spend most of our day with our co-workers, right? So I'm thankful I'm at a place where I truly enjoy being at every day. ;)
How has CBHA helped you in your career development?
CBHA has given me the opportunity to explore a role I never thought I would be in, and it's been great! I am looking forward to growing and learning more, as the Administrative Assistant role has a lot more to it than you'd think.
What has been your favorite project at work so far?
When I first started, I was the café coordinator, so it was A LOT of fun getting that rolling! Now, as an Admin Assistant, it's been so fun planning our All Staff events and other Employee Luncheons.
What motivates you to wake up and go to work?
What motiviates me is knowing that I work in a place that makes a difference in my community. We are a huge part of the Columbia Basin and that means a lot me.
Tell us something about yourself that would surprise us.
Those closest to me know this, but even though I was born and raised in Othello, I have also lived in 3 other states; Texas, California and Missouri!
What would you do (for a career) if you weren't doing this?
I would be running my own coffee shop ;) who knows, that dream may still come true someday!
Favorite travel spot?
My favorite spot is the Mountains. I LOVE visiting Leavenworth & that whole area in general.
When you have 30 minutes of free-time outside of work, how do you pass the time?
I spend my time hanging out with my son – playing outside is his favorite thing, so it's mine too!
Anyone you would like to thank or final words?
Never did I think I would receive the honor of being a Firestarter, so thank you to my nominator and to those who I've had the privilege to work with. Y'all truly make this a great place to be at. I love my CBHA family!