Telephone appointments are now available!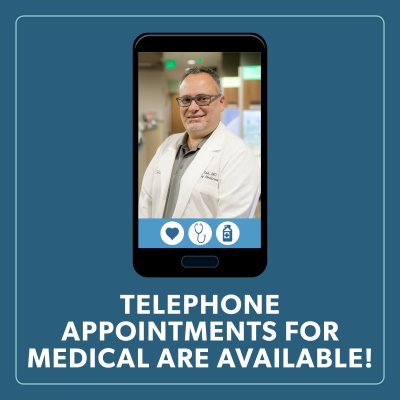 If you need to talk with your medical provider, you can do that now from the convenience of your phone for many appointment types. Visits that can be done by phone include those for:
Upper Respiratory Infections
Allergies
Chronic Disease Followup (Such as high blood pressure, diabetes)
Medication Refills
Nausea Vomiting
Chronic Migraine (Not New)
Headache
Referral Requests
Follows Ups With Your Provider
Diarrhea
Call us at 509.488.5256 to schedule an appointment, or to talk with a patient services representative for more information. Note: Injuries, vaginal complaints, OB, well child, ear pain and other conditions may not be suited for a telephone visit. Also, telephone appointments are not appropriate for emergency conditions that present an immediate threat to your health, your safety, or someone else.