All services are now fully open!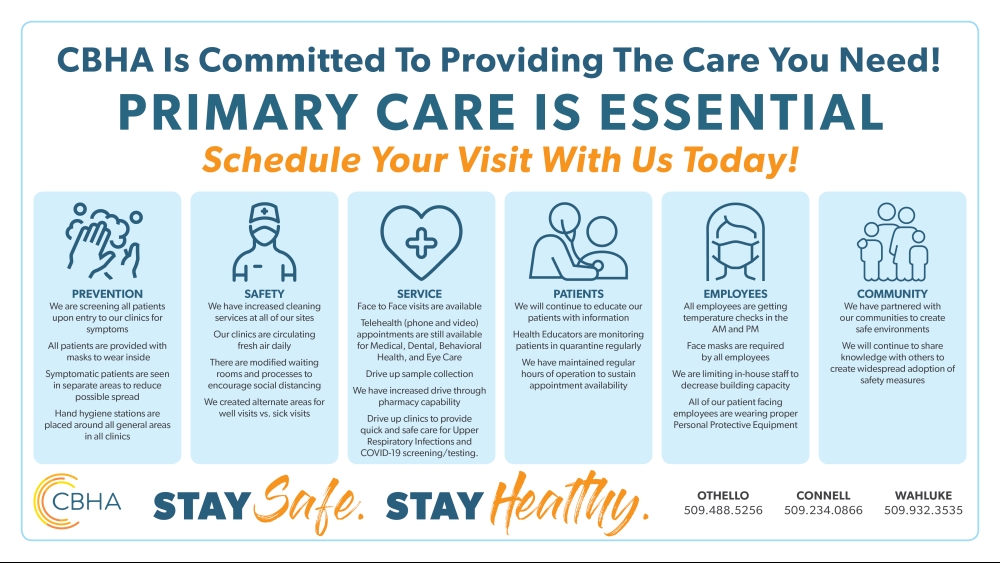 CBHA is committed to providing the care you need and we are excited to announce that we have resumed scheduling all services as of May 19th.
Here is what we are doing to protect our patients and our employees.
SERVICE:
Face to Face visits are available
Telehealth (phone and video) appointments are still available for Medical, Dental, Behavioral Health, and Eye Care
Drive up sample collection
We have increased drive through pharmacy capability
Drive up clinics to provide quick and safe care for Upper Respiratory Infections and COVID-19 screening/testing.
SAFETY:
We have increased cleaning services at all of our sites
Our clinics are circulating of fresh air daily
There are modified waiting rooms and processes to encourage social distancing
We created alternate areas for well visits vs. sick visits
PREVENTION:
We are screening all patients upon entry to our clinics for symptoms
All patients are provided with masks to wear inside
Symptomatic patients are seen in separate areas to reduce possible spread
Hand Hygiene stations are placed around all general areas in all clinics
PATIENTS:
We will continue to educate our patients with information
Health Educators are monitoring patients in quarantine regularly
We have maintained regular hours of operation to sustain appointment availability
COMMUNITY:
We have partnered with our communities to create safe environments
We will continue to share knowledge with others to create widespread adoption of safety measures
EMPLOYEES:
All employees are getting temperature checks in the AM and PM
Face masks are required by all employees
We are limiting in-house staff to decrease building capacity
All of our patient facing employees are wearing proper Personal Protective Equipment
STAY SAFE, STAY HEALTHY!
Call us to schedule your appointment: 509-488-5256