Firestarter Spotlight - Horacio Valdez
Congratulations to Horacio Valdez on receiving Firestarter!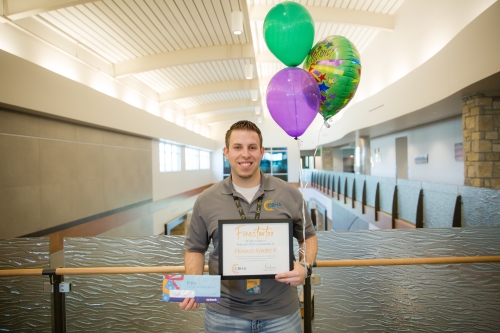 One of the many reasons Alex Bountharath, Community Relations Manager, nominated him is for being costumer focused. "While he may not work with direct patients, all of CBHA's internal departments and external vendors are the customers he serves well." Alex also states that Horacio is always exceeding expectations on a daily basis. Horacio takes ownership of his job in Finance very serious. Deadlines are important to meet in his job duties with month end and paying invoices on time. He also volunteeres as as a member of our employee wellness program and helps put on events for our staff. "I wish everyone could see behind the scenes how hard he works and how proud he is to be an employee at CBHA," says Alex.
Get to know more about Horacio Valdez:
When did you start at CBHA?
May 19, 2015; Started part-time right before I graduated from Eastern then went to full-time after.
What is your title and job duties?
Staff Accountant; I used to do most Accounts Payable and deal with all of CBHA's expenses through our purchase order/requisition system, but now I'm in charge of invoicing state grants like WIC, DOH, Thrive by 5, and Family Planning as well as nearby school districts for EIS. I also reconcile our company credit cards, handle our fixed assets, and track inventory levels.
What do you like best about working for CBHA?
It's a great company that cares for its patients, vendors, employees, and community and also has a very professional environment that pushes one to get better each day. CBHA has a great atmosphere, and of course it's local and in my hometown of Othello.
How has CBHA helped you in your career development?
I started out at CBHA as an Accounting Clerk and held that position for 3 years until I was promoted to Staff Accountant. Over time, I've learned more on the job at CBHA than I did in college classes. Dealing with real, concrete information, I've applied what I've learned in school and really grasped the concept of debits, credits, balance sheets, income statements, and funding of state and federal grants. I look to acquire a Certified Healthcare Financial Professional (CHFP) certificate in the future as well as a CPA license. In doing so, CBHA has programs in place to help earn and pay for licenses, certifications, and continuing my further education.
What has been your favorite project at work so far?
Working in Accounting, we don't do many what one considers "projects" but I do have fun creating reports or spreadsheets that show expenditures over time for a certain department/program or doing analysis for a vendor. I also had a big hand in creating workflows for our purchase order/requisition software Microix.
What motivates you to wake up and go to work?
That I get to work close to home with a flexible schedule and that I deal with numbers and great people every day.
Tell us something about yourself that would surprise us.
When I was 4 years old, I broke my collarbone under current CEO Nieves Gomez's supervision (he is my uncle) the same day my sister was born. I ended up at the hospital in one room while my mom and sister were in another.
What would you do (for a career) if you weren't doing this?
Probably something in Architecture since that's what I first majored in before switching to Accounting, or Coaching/Teaching.
Favorite travel spot?
Favorite travel spot ever is Barcelona/Paris since I recently went there for my honeymoon and it was a surreal experience, but favorite travel spot in regards to frequency is San Benito, Nuevo Leon, Mexico.
When you have 30 minutes of free-time outside of work, how do you pass the time?
Honestly, go through social media and keep up with what's happening in the world lol. I'll also go through ESPN articles and play chess occasionally.
Any final thoughts?
I would like to thank my parents for my upbringing and instilling hard work and the importance of an education. My wife Ivone, for dealing with me having to get home late during busy times. Alex "formerly known as AV" Bountharath nominating me and for his friendship at work.
CBHA is a great place to work!