Welcome Dr. Jonathan Walker, O.D.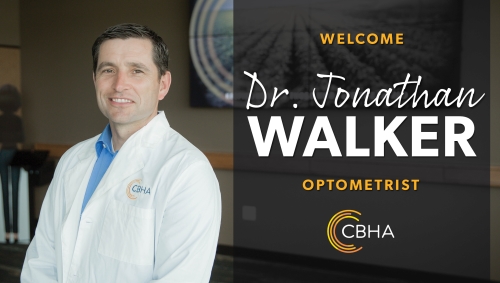 Columbia Basin Health Association (CBHA) welcomes Jonathan Walker, O.D, to its team of eye care providers. Dr. Walker will be serving as the full-time optometrist at the Connell Clinic.
Originally from Othello, Washington, Dr. Walker grew up in central Washington. He graduated from Brigham Young University-Idaho and then worked in a variety of professional industries. Inspired by eye doctors in his life, Walker attended Arizona College of Optometry, earning his Doctor of Optometry degree in 2015.
Since leaving Arizona, Dr. Walker has practiced optometry in Nampa, Idaho and in Pasco, Washington. Married with five children ages 4 through 13, Dr. Walker has an active family. They are all happy to be part of CBHA, where their dad is joining their uncle, Dr. Walker's brother, Matthew Walker, who works as a Certified Physician Assistant.
"We're so excited to be serving in the Columbia Basin. This is home to me," says Dr. Walker. "I enjoy the sunshine in central Washington – I grew up in the area. I enjoy outdoor activities – hunting and fishing. And we have parents and siblings close by."
Dr. Walker says he felt called to study optometry after he graduated college with his bachelor's degree and worked in other professions for a few years. It's been the perfect career for him, he says, because it's rewarding on a daily basis, and he enjoys helping people. "I really enjoy problem-solving and being able to help people, whether it's diagnosing conditions and providing treatments to help someone keep their eyesight, or improving the sight they already have. They're always happy when they leave! Being able to see clearly can be a life-changing event, and I feel fortunate to be part of that."
The Connell Clinic is open daily from 8 a.m. to 5 p.m. Dr. Walker looks forward to seeing patients in the coming weeks.