Firestarter Spolight - Abril Chavez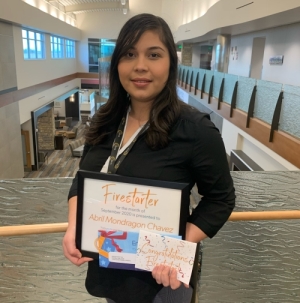 Congratulations to Abril Chavez for receiving the Firestarter Award!
Abril is one of our Referral Coordinators. Her peers would describe her as a respectful and hardworking team player. She does a great job of holding them accountable and encouraging them to do the best job possible.
Recently, she was able to manage the whole department by herself for one week and continued to keep up with her daily tasks. She is always willing to help when it comes to the needs of our patients.
Abril works with various people and departments throughout the organization and has received gratitude from many for the willingness to take on hard situations and create positive outcomes.
We are so happy to have Abril as part of our team! Congratulations!
When did you start at CBHA? I started at CBHA on September of 2018.
What is your title and job duties? I am a Referral Coordinator. I process specialist referrals and work directly with patients to support and encourage healthy lifestyles. We help arrange appointments on behalf of patients to see other doctors that they were referred to.
What do you like best about working for CBHA? Working at CBHA has been a wonderful experience. I have learned so many things about my job and, my coworkers are very helpful. My manager motivates me to do my best every day, which makes working here more enjoyable. Also, we get to be part of a lot of great community events, which makes me feel more involved in the community.
How has CBHA helped you in your career development? CBHA gives me the opportunity to apply my skills, learn and grow in my position.
What has been your favorite project at work so far? The new referral tracking system has been one of my favorites.
What motivates you to wake up and go to work? My family is my biggest motivation to keep learning and improving in my goals. Having the ability to help others also motivates me to wake up every day.
Tell us something about yourself that would surprise us? I love baking and decorating cakes.
What would you do (for a career) if you weren't doing this? If I wasn't doing this I would be a Medical Assistant, which is my next goal.
Favorite travel spot? My favorite place to travel is Tijuana, across the border from California. I also enjoy going there because I most of my family is from there.
When you have 30 minutes of free-time outside of work, how do you pass the time? I spend my time hiking with my husband or looking for new outdoor places to visit.
Anyone you would like to thank or final words?
I would like to thank CBHA for giving me the opportunity to be part of a great work environment, for always motivating me to be better and for giving me the opportunity to learn something new every day. I would also like to thank my family for being by my side, helping me become a better person.