Firestarter Spolight - Diana Gomez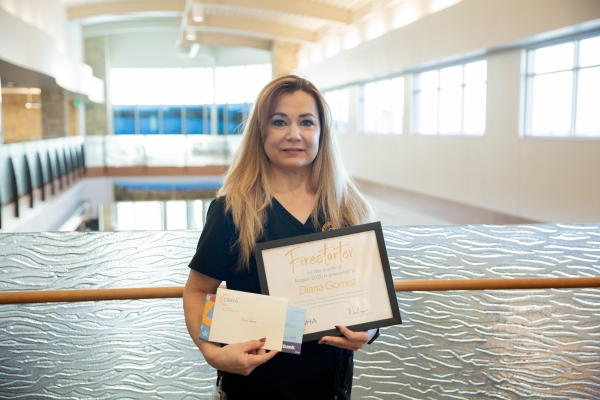 Congratulations Diana Gomez on receiving the Firestarter Award!
Imagine waking up to work a shift at two different jobs, having the willingness to work on the weekends to cover for another staff member, returning home after a long work day to care for two kids, juggling time between family and work, then going to bed knowing you have to do it all over again the next day. That is what Diana Gomez, Lead Custodian, does every day.
On top of the disciplined strong hard working mom that Diana is, she comes into work showing positivity, upbeat energy, and kindness to everyone she runs into. She pays close attention to detail when it comes to specific areas of concern. For example, she wipes down every phone receiver and the dial buttons, along with the visible dust behind a desk chair and vacuums every square inch of the building.
While working two jobs, Diana manages to find time to volunteer for CBHA Events. She has helped throw paint at the paint stations in our Annual 5K Color Run, and assists with the tear down of the event. She is a true definition of excellence because of her willingness to ensure CBHA is organized, cleaned and in top shape for the safety of others entering the building.
When did you start at CBHA?
I started on the 5th of February in 2018.
What is your title and job duties?
I am the Lead Custodian of our janitorial team. Some of my duties include deep cleaning and disinfecting all rooms, open areas and restrooms in the Othello Clinic. I am also responsible of having the necessary cleaning and disinfectant supplies ready for the team to use when they clean the facility.
What do you like best about working for CBHA?
Working at CBHA is my dream come true! I like how they value the work of their employees and offer more ways for them to continue improving in their skills. I enjoy spending time with my coworkers and learning from my supervisors every day.
How has CBHA helped you in your career development?
CBHA gave me the opportunity to be a leader of a team of 6 people. I learned to have a more positive attitude that will reflect well of my team. My hope is to continue keeping this clinic as clean and disinfectant as possible, while having a smile and positive attitude while I do that.
What has been your favorite project at work so far?
My favorite project is when I get to use the buffer machine to clean the stair case and Café floors.
What motivates you to wake up and go to work?
My motivation comes from my children. I do my best to provide for them and they make me stronger every day for it. I also receive motivation through my passion to clean. I know that our supervisors, doctors and all the clinic staff who come in the morning are happy to start their day off with a clean and disinfected area, and that makes me happy.
Tell us something about yourself that would surprise us.
Years ago, when I was in Mexico, I had my own small business. It was a small grocery store that also included a restaurant. I was in charge of 8 people, who helped me run the store and restaurant.
What would you do (for a career) if you weren't doing this?
I would like to study business. I would like to own a small business, where I could help and train others.
Favorite travel spot?
I love taking my kids out to eat at Time Out Pizza in Othello.
Anyone you would like to thank or final words?
I want to thank Nieves Gomez, my supervisors Jonathan Madera and Mat Garza, who have entrusted me in this position and my coworkers, who are so amazing and make coming to work fun!