Firestarter Spotlight - Cassandra Botello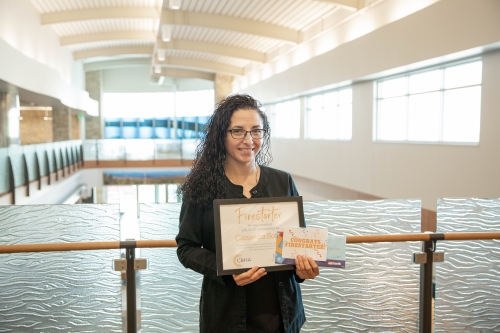 Congratulations to Cassandra Botello for receiving the Firestarter Award!
Cassandra is a Phlebotomist at our Othello Clinic. She was chosen for this award because of her accountability, workplace behavior, and excellence as a phlebotomist. She is always on top of her work, helping her co-workers when they need it and being there for her patients.
Our patients enjoying having her as their phlebotomist because of her kindness and respectfulness towards them. Cassandra is always very focused in her work and takes time to analyze the anatomy of her patients. She is tedious in her work, so that she never makes a mistake.
Cassandra is a reliable and accountable employee. She comes to work with a determined mindset and is always lending out an extra hand to her co-workers.
Get to know more about Cassandra:
When did you start at CBHA?
I first started working here right out of college on Jan. 30, 2006 and I left on May 23, 2009 to work in Moses Lake. I came back to CBHA on Jan. 23rd, 2017.
What is your title and job duties?
I am a Phlebotomist in the Lab. I draw blood from patients to check a variety of tests.
What do you like best about working for CBHA?
I love the atmosphere, and the people I work with. Everyone has their own experience that they bring into the workplace and I love learning and working with them.
How has CBHA helped you in your career development?
CBHA took me on as a phlebotomist right out of college, no experience whatsoever. I was able to learn all different types of skills which made my own skills even better.
What has been your favorite project at work so far?
I enjoy volunteering for CBHA events. Like the parade and our annual color run event, those are always a lot of fun and I enjoy doing it for our community.
What motivates you to wake up and go to work?
My family!! Watching my children grow up and become independent adults has showed me why I work so hard to provide for them.
Tell us something about yourself that would surprise us.
My children aren't little. My oldest turned 26 this year. My middle son will turn 19 next week, and my little girl is 17. BUT, most surprisingly I am a grandma, to a 1yr little boy who is my heart!
What would you do (for a career) if you weren't doing this?
If I wasn't a phlebotomist, my next career choice would be a pharmacy tech.
Favorite travel spot?
I love to travel to California.
When you have 30 minutes of free-time outside of work, how do you pass the time?
Doing absolutely nothing! I like being home just relaxing.
Anyone you would like to thank or final words?
I was nominated by my Co-worker Yojari Mendoza, and I would like to tell her THANK YOU! Working side by side with her is always a great day. Also, to all my CBHA co-workers, I appreciate you all and I enjoy spending my work days with you.